Schedule a Product Demonstration
We'll bring our machinery directly to you to help you decide what your shop needs.
Increase your efficiency to take on more jobs and grow your business. See our machinery in action and test cut your material without even leaving your place of business.

Whether you're looking to improve accuracy, expand production, or fabricate custom parts our factory representatives can help you find the right product or process for your needs.

Request your FREE on-site demo by filling out this form and we'll be in touch.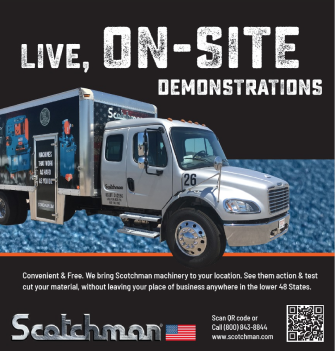 "Having three punch set ups at once is what sold me on Scotchman."
John Doe | Fabrication Shop
"Having three punch set ups at once is what sold me on Scotchman."
John Doe | Fabrication Shop
"Having three punch set ups at once is what sold me on Scotchman."
John Doe | Fabrication Shop
TRUCK LOCATIONS
Scotchman has 17 mobile demonstration trucks located throughout the lower 48 states. Each self-contained vehicle is equipped with a range of Hydraulic Ironworkers, Circular Cold Saws, Tube & Pipe Notcher/Grinders, Measuring systems and more. All machinery is fully powered and ready to demonstrate at your location.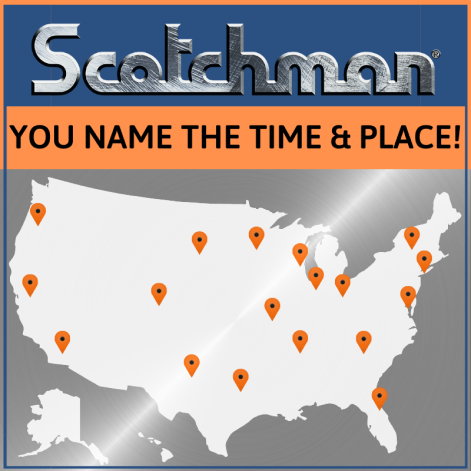 This is where it's at y'all. I'm a self confessed tool snob and I'm not gonna get all chatty kathy on this page about products I don't count on everyday, I'll say this, Scotchman Ind. has exceeded every expectation I had in deciding to go with them. Durability, customer service, and quality are superb. Homegrown business making machines in the U.S.A. Also, and you can disagree with me if you like, they don't post up fake and artificially enhanced women at FABTECH to sell Ironworkers. That fact alone heavily swayed my opinion to go with Scotchman. If you gotta use silicone to sell machines you've put your company culture and marketing interests in the wrong place.
Andrew Petty | Petty Welding
Knoxville, TN
I love this beast!
Christian Sosa | Sosa Metalworks
The utmost in quality equipment with unmatched customer service.
Birdman The Welder
After seeing the demonstration on the truck we were sold. Having the variable speed and auto-feed has really helped our production. Great machine - Great service.
Justin | Make Studios
We LOVE the QUALITY of our USA build Scotchman! We are trying to save up some money to purchase our next one. Keep up the great craftsmanship, and please share our appreciation with your shop's craftsman & women who provide us domestic fabricators with a great machinme we know we can rely on to make money.
Lee Smith | EXP Fabrication
Justing, TX
Best piece of equipment I've ever bought.
Brian Reaume | Bennic Machine Inc.
Canada
Buying a Scotchman ironworker is the smartest investment I have made. Hands down, no questions asked. This machine is a time saver and allows me to spend less time in the shop giving me extra time with my family.
Quality over quantity. I chose Scotchman because I wanted a saw that would last and not need to be continually upgraded. Since getting a CPO 350 saw with measuring system, I can make multiple parts with almost NO variance. Plus, the angle capability has cut my framework in half and the 45° cuts are accurate. Also, having a burr free finished cut is a time saver with prep. Scotchman is one of the few companies I can call and actually speak to a person every time, not a voicemail, and I really appreciate that.
I have had my Scotchman ironworker for 40 years, and other than a few minor repairs it has bee the workhorse of my shop. Great machine.
John DeNoma II
We are a really small shop so every purchase is made for the long term, ease of operation and functionality. The quality of your equipment, service and parts availability has made the Scotchman brand our preferred machinery manufacturer. We have manufactured here in North America since 1949 and understand the difficulties in selling quality products to a price conscious market who sometime forget the meaning of "value", which your brand offers.
Bryce MacKinnon
No other ironworker on the market comes close to a Scotchman. I have worked around Scotchman equipment for the past 20 years in different welding shops. I cannot say enough good things about your ironworkers. I love all the different things this machine is capable of doing. Keep up the good work!
| Dan Walter Enterprises, LLC
Rozet, WY
I have seen your ironworkers at industrial tool shows and wanted to get one for our shop for years. When we finally got one it far surpassed our expectations -- we save time, money, and material. The 3-station turret punch has saved us a lot of time and money on drill bits. I would recommend this piece of equipment to any shop wanting to make fabrication faster, easier, and safer.
Ron Scouton | Spokane Transit Authority
Spokane, WA
I bought a used 50-ton ironworker (built in 1980) and love that Scotchman still supports this 41 year old machine with parts & tooling. The machine still works like new. I worked on fabrication and repair for 30 years before starting my own business 6 years ago, and after getting my ironworker I think back to all the times this machine would have saved so much time and labor. They really do pay for themselves and hold their value very well.
Tim Smith | Tim Smith Custom Service
I bought my first Scotchman ironworker in the mid 80's and used it daily until I wore it out and bought 120-ton. What a GREAT machine!
Dan Walker | Dan Walker Ent. LLC
Since purchasing my first cold saw manufactured by Scotchman, things have been extremely better in my shop. Our cutting accuracy and cutting productivity have greatly increased. Two reason why we purchased a Scotchman over other like machines:
#1 - Our local dealer worked 100% to provide a better machine at a comparable price. During these tough economic times, this was a big plus.
#2 - This machine is manufactured in the USA! This was a double plus!
Greg Madison | Greg Madison Welding, Inc.
Louisa, VA
Very innovative and time saving!
Mike Jackson | Mike Jack Co.
Jamaica, NY
This is the 2nd ironworker I have purchased and I love what it can do! Set-up is easy and it will last forever.
Ed Cook | Midsouth Community College
I would never exchange my ironworker for anything! Love it.
Lonnie Jensen | Jensen & Sons Ironworks
This machine has met all of our expectations. It is worth its weight in gold, and we feel it was one of the best investments our company has made!
Daniel Threeton
Great, low mainenance tool. I would recommend this tool to anyone working in the steel or fab industry.
Bob Lechner | ConSep Tec LLC
This machine paid for itself by punching the thousands of holes through stainless steel 1/8" belts for the boiler we made for the Henry Ford Museum in the outdoor PlayScape theme park. It does everything we need and more.
Roger Kremers | ROKS Custom Electronics & Fabrication LLC
One of the nicest pieces of equipment I own. I could not get by without my Scotchman ironworker because I know how much time is saves in all phases of the fabrication process. The quality and craftsmanship that is built into all of your products is second to none LOVE my Scotchman Ironworkers!
Corey Biggers | Rocky Mountain Truck Center / Elite Kubota LLC
I own and operate a shop specializeing in custom iron work ranging from very traditional hand forge pieces to more modern fabricating and everything in between. Each project presents unique challenges and the versatility of my 50-ton ironworker addresses them all with ease. It's a powerful machine that is capable of very heavy use, but is right at home in a smaller shop. The sprice is spot on, the quality is second to none, and it's made in the USA.
Travis Nelson | Ringing Anvil Forge
This is the most dependable and versatile piece of equipment we have. I can't imagine running a shop without it.
Jim Bridwell | Ozarks Tech Community College
We've had many years of reliability with our Scotchman Cold Saw, 20 years to be exact. Its a workhorse and we love it!
Jason Northup | McCombs Steel