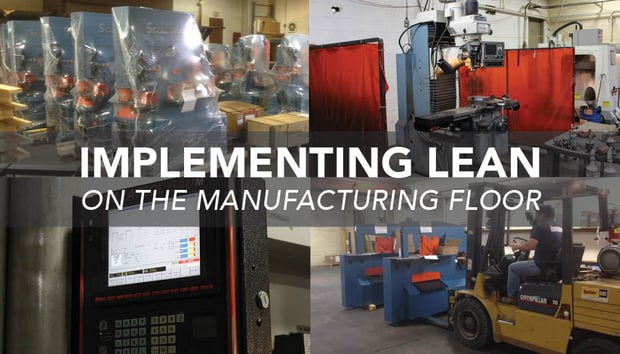 Implementing lean manufacturing within your business or shop can seem like an overwhelming task at first, but it is definitely worth it in the long run.
By eliminating or reducing waste in a work process, you save time and thereby save money. Waste can be reduced in every department, including manufacturing, customer service, and distribution.
The best way to get started is by having a plan of action with attainable goals.
Scotchman Industries applies the lean principles to our manufacturing operations. We build heavy metal fabrication and metal working tools every day on the manufacturing floor. Here are our five tips for implementing lean manufacturing in your shop.
5 Tips for Implementing Lean on the Manufacturing Floor
1. Simplify
Wasted time and resources cost you money. Think of opportunities for simplification in daily manufacturing tasks. Are there unnecessary steps in your day-to-day process that you or your workers could do without? Remove wasteful steps that don't add value to the finished product. More often than not, there's a more efficient way to accomplish a task that has been performed the same way for years.
2. Organize
Once you get rid of wasteful steps from daily work processes, it's time to organize. By cleaning up your manufacturing floor, you remove physical waste and make it easier for workers to get more done. Labeling and spatially organizing tools, materials, and areas between machines can significantly cut down on searching for needed items. Cleanliness not only removes dirt, but improves safety for workers and the quality of the finished product. When tools are visible and readily available, tasks are less stressful and goals are easier to achieve.
3. Remove common errors.
Mistakes tend to be inevitable within any industry. But ask yourself this, do you notice a common error that seems to keep occurring? Recognize the source of the error and analyze the process. The number of times a product or part is handled is correlated to the number of potential errors.
Simplify and create standard procedures when possible. Task repetition makes it easier to remember how to get tasks done and train others to do it.
4. Listen to workers.
Top-down processes implemented by executives don't often work because they're not as close to the work as the employees are. Your workers will know the best ways to get work done. Empower them by creating a respectful and free-thinking atmosphere. You can do this by providing positive feedback. If employees see their ideas being heard and implemented, they become more confident to speak up and thoughtful of work tasks. All employees should feel like their ideas are valuable. Share goals with workers so everyone is on the same page and feels like they're a part of a team.
5. Repeat initiatives.
Be sure that the standard processes, checklists, or other lean resources you create are being used and repeated. Then, monitor results throughout an extended period of time to know for sure if improvement is happening. Sometimes not every step toward continuous improvement actually improves processes. Ideas need to be tested to see if they work well. Take a step back to check on things and start over if it's not working. Implementing anything new is a learning process for all.

With initiating lean manufacturing, you increase efficiency, create predictable manufacturing processes, and meet production schedules and deliveries in a timely manner. Plus, your workers will be trained better and encouraged to come up with ideas for continuous improvement.
Implement Lean So You Can Do More With Less
Lean manufacturing helps improve efficiency and ultimately get more done with less. Taking small steps with a larger picture in mind is an efficient and less overwhelming approach to implementing lean manufacturing principles. When there's less room for surprises and more organization, everyone is happier.
Our metal fabrication manufacturing floor is cleaner and safer for workers because of the lean manufacturing principles we have implemented.
Stay up to date on manufacturing industry trends by subscribing to our blog and receiving email updates on future posts.
References:
http://www.qualitydigest.com/inside/quality-insider-article/tips-improving-manufacturing-practices-through-lean-implementation
http://www.impactdakota.com/blog/how-5s-can-improve-your-production-floor-manufacturing-process