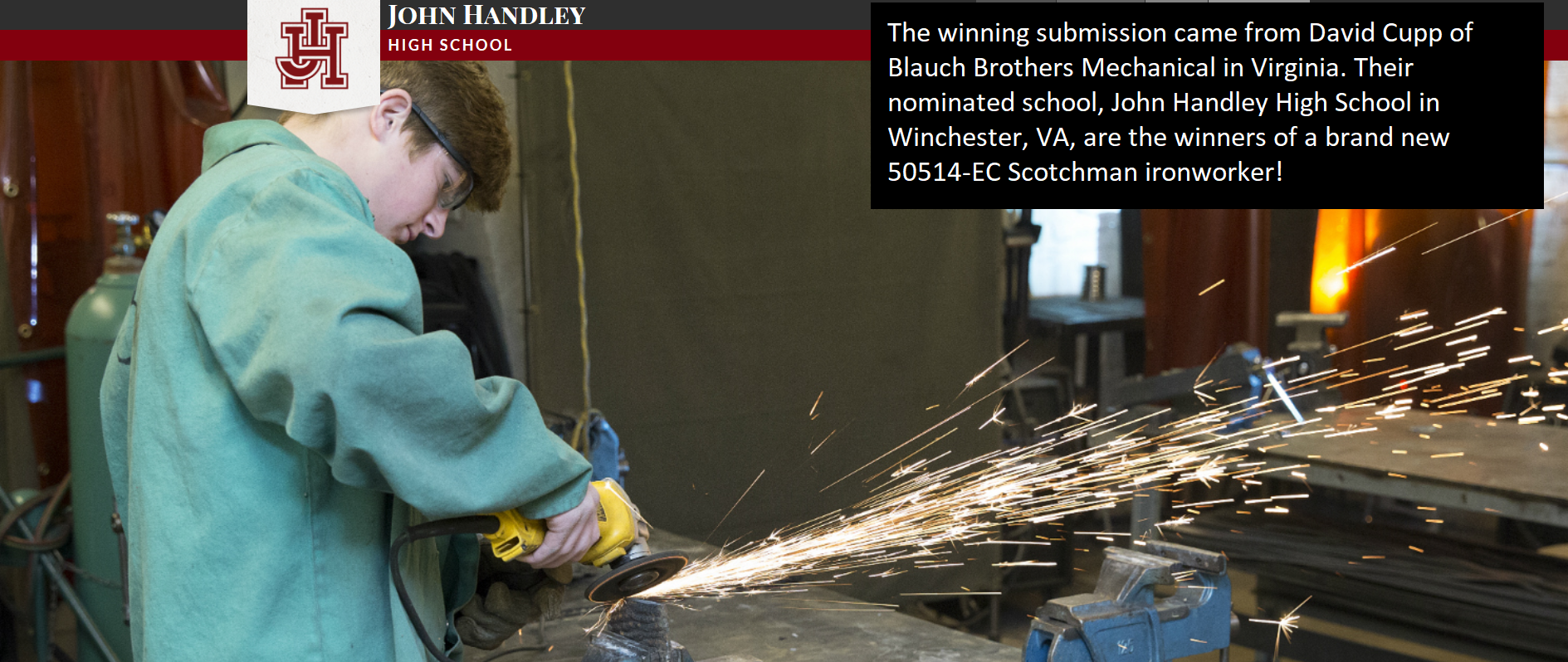 For the 50th anniversary year of the Scotchman ironworker, we wanted our celebration of the past to contribute to American manufacturing's future.
That's why our 50-ton giveaway contest was set up to award one school a brand new ironworker. We asked our incredible customers to submit their Scotchman stories and nominate the school of their choice to be the recipient.
And we officially have a winner!
Thank You to Our Valued Customers!
First, thank you to everyone who entered. Having excellent customers who are passionate about our products makes the hard work we do in Philip, SD, entirely worthwhile.
Hearing from so many of you was a wonderful way for us to celebrate 50 years of building America's best hydraulic ironworkers. You have inspired and motivated us to press on for 50 more and we are forever grateful.
And Congratulations goes to...
The winning submission came from David Cupp of Blauch Brothers Mechanical in Virginia. Their nominated school, John Handley High School in Winchester, VA, is the winner of a brand new 50514-EC Scotchman ironworker!
Blauch Brothers has served the west-central region of Virginia for 63 years as a mechanical contractor. They offer full commercial/industrial mechanical and plumbing services, in-house design build, and hard bid projects.
David, a proud new owner of a 5014-EC ironworker wrote:
"Blauch Brothers has always prefabricated sheet metal for our projects but have recently developed plans to expand our prefab operation to the piping side. We felt that this was a direction we need to grow for many reasons to stay competitive and profitable in the ever changing construction industry."
Blauch Brothers is in the midst of renovating their shop, and their new 50-ton ironworker has finally made its way to its new home in Harrisonburg, VA,.
"We did a lot research, discussing with other contractors, and looked at other manufactures models of ironworker before making a decision to purchase the Scotchman 5014-EC. We are very excited to get it in production and I'm certain we will be asking ourselves why we didn't purchase it years ago."
And we are excited for them too, even more excited now that two Scotchman ironworkers will be heading to the commonwealth. In addition to the new ironworker for the nominated school, Blauch Brothers will receive a $1,000 tooling credit for their personal use.
I wonder what new tool they'll get for that shiny new workhorse of theirs?
The Winning School
Congratulations to John Handley High School in Winchester, VA! We're thrilled that one of our machines might help inspire a student of JHHS to pursue a career in advanced manufacturing and become part of the next generation of American metal fabricators.
Here's what Blauch Brothers wrote about John Handley High School:
"We would like to nominate John Handley High School. JHHS is within our service area and we feel that they have a very robust welding program. Their program has been established for over 15 years, and currently has an instructor that has the skills and abilities necessary for an AWS certificate and employment.

"Handley is dedicated to developing a skilled workforce (which is in high demand in this area), made evident by their plans to build a new Innovation Center that will be the home of their trade programs. We feel that this Scotchman ironworker will greatly benefit their program and long term benefit BBI with quality skilled workers.

"They are totally committed to training and educating students, as Blauch Brothers is to delivering quality services to our clients.

"Thank you for considering John Handly High School."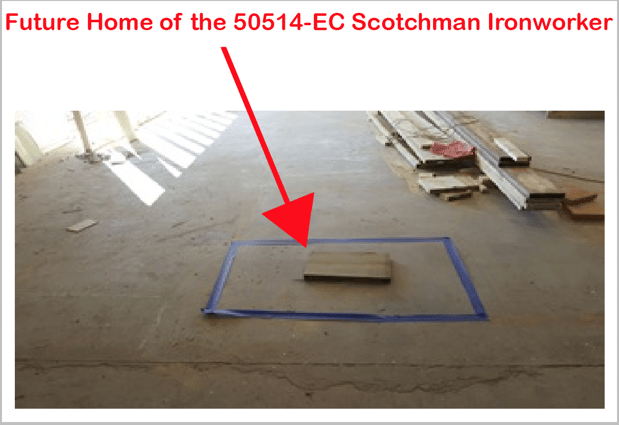 Cultivating the Next 50 Years
Scotchman will continue offering the same high-quality machinery we've been known for since the 60s into the next 50 years. The best way to do that is by bringing the talent and attention of today's students to tomorrow's American manufacturing industry.
Having Scotchman equipment available to students can make an incredible difference in a program's shop classes.
Do you know of a school that needs high-quality equipment? Scotchman proudly offers an education discount to institutions that purchase our machines. We also have a school leasing program offering yearly leasing terms.
Thank you again to all our customers, to everyone who entered the giveaway, and to everyone working to help younger generations embrace the rich careers offered in the metal fabrication and manufacturing field. Without you, we wouldn't be here and we cannot thank you enough.