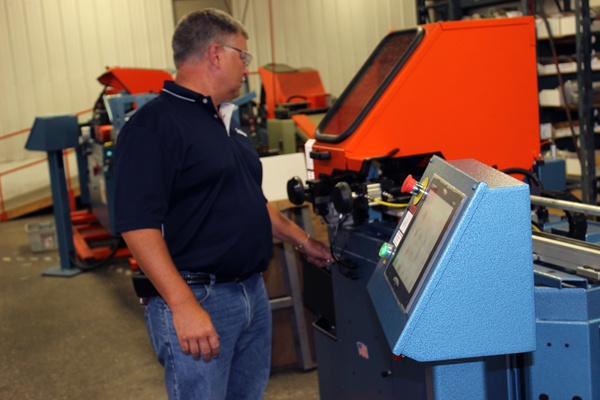 At Scotchman, we believe that metal fabricators who are looking for a cold saw for sale want the same quality and technology in their new machine as cell phone users want in the newest iPhones.
Scotchman embraces technology. We put our blood, sweat, and tears into producing the most cost-effective and efficient machines in the metal fabrication industry. That's why we're proud of our state-of-the-art automated cold saws, which can make quick work of nearly any ferrous or non-ferrous metal.
Flip Phones and Hack Saws: Embracing Technology
We'll go into more detail about how our saws can save you time and money in a bit, but first we'll take a brief look at why Scotchman has stayed on the "cutting edge" of technology through the years.
In the early days of the metal fabrication industry, you needed a hack saw and a strong forearm to cut through a pipe or a metal sheet. Just like cell phone users, at the very beginning, could only use their phones for making calls.
Now, your iPhone can not only make calls, but it has more computing power than NASA did in 1969 when it put two astronauts on the moon. By the same token, a cold saw operator using an automated saw like the CPO 315 HFA CNC would run circles around someone with a hack saw.
As a company that has been at the forefront of the metal fabrication industry since the 1960s, why wouldn't we take advantage of technology that makes tasks easier for our customers? And as a customer looking for a cold saw for sale, why wouldn't you take advantage of automation?
Step up with Faster Machinery
You can step up your fabricating game with faster, more precise and efficient machinery. Some people think more automation means fewer jobs. The reality is quite the contrary. We need more and more skilled workers to operate machinery as it advances.
We are not here to take the fabricator out of fabrication, but to make fabricators' jobs easier, faster, and more fun — with more possibilities.
We tweak our process and machine features to continually increase quality. That is what separates us from competitors.
Automated Cold Saws: Faster and More Effective
Whether you're a manufacturing pro, a home hobbyist or even a shop teacher, Scotchman offers the solution to your cutting needs with a complete line of cold saw models for cutting ferrous and non-ferrous (NF) metals.
When it comes to finishing tasks in a hurry, our automatic saws really shine.
Low RPM, FAST Cuts
Circular cold sawing is unique because the blade turns at very low RPM which produces fast, burr-free cuts without sparks. Unlike an abrasive saw, a cold saw's heat is transferred away from the cutting surface so the object being cut does not get hot.
Our cold saws can cut through almost any material. It will make you cringe when you think back to the days of the hack saw. Add some automation and it's almost like you aren't doing any work at all.
Scotchman Automatic Cold Saws are offered in both steel-cutting ferrous saws and non-ferrous models. Our steel cutting cold saws feature rigid, high-speed steel blades; double clamping; mist or flood lubrication systems; variable blade speed and adjustable feed rates that combine for high quantities of burr-free, accurate cuts.
HFA
The Scotchman HFA Series is available in two feed options: pneumatic feed with a 30" shuttle or a CNC with a programmable control. Both options give you automation to improve your cutting accuracy and production rates.
GAA
The Scotchman GAA series saw gives you a non-ferrous automation to cut your large non-ferrous projects. With the standard 20" blade and 20" shuttle capacity, you can cut round and square material up to 6" diameters.

The Scotchman GAA-500 90 DT-20 has the same capacities as the GAA-500 90 plus the ability to drill and tap up to 20mm diameter holes. By adding a DT–20 (Drill/Tap 20mm) option to our GAA saw, you now have a true production saw!
RFA
The Scotchman RFA Series utilizes a roller feeding system. These machines are ideal for longer length parts because they can be ordered with either standard 60" or optional 90" or 120" out-feed stops. The in-feed system can be supplied with either a supply table or a bundle loading attachment.
Advantages of an Automated Cold Saw
As technology advances, so do the ways of manufacturers outfit their lives. Using automation is more efficient and therefore requires less material handling and less wasted material. Less human interaction means less operator error, minimizing scrap and cutting down on labor and waste.
You're definitely saving time with a Scotchman cold saw, but one other big advantage is the cost savings.
An abrasive wheel needs replacing after approximately 75 cuts, but the metal cutting blade in a Scotchman cold saw can make thousands of cuts before it needs sharpened. Cold saw blades are reusable and can be sharpened up to 30 or 40 times before the blade becomes too small to cut through the maximum-diameter material.
If you stay busy in the shop, your initial cold saw investment will pay off down the road in blade costs, alone!
Sawing is Our Business. Let us Help With Yours.
We are so confident that our products will save you time in the shop that we'll visit your business and do free in-house demonstration. Click below to schedule one today.