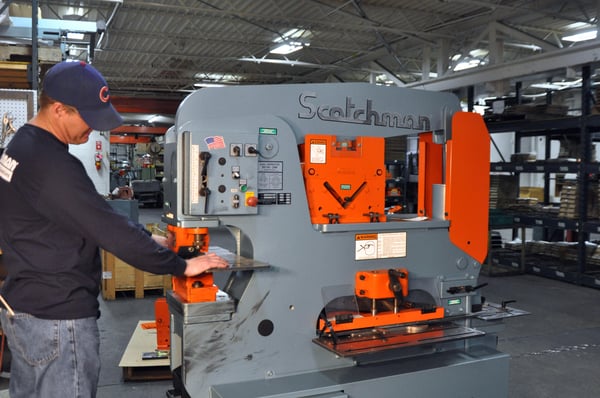 Ironworkers, especially a Scotchman, are tough. But metal fabrication equipment has its limits. Exactly how hard can you push your ironworker? Here are some tips on how to avoid abusing the ironworker you own, and things to think about if you haven't purchased one yet.
Ironworker Owners - How Hard Can You Push Your Machine?
There are many factors to consider. One to avoid is overworking your metal fabrication equipment. Technology is increasing the strength of today's materials, which can make some jobs more difficult. However, be sure you know what your ironworker can handle. Exceeding your machine's limitations can lead to premature wear and tear and broken parts, such as broken fasteners in the machine frame, shattered tooling, or compromised safety guards.
Scotchman offers a complete line of American-made hydraulic ironworkers, from 45 to 150 tons in three distinctive styles:
Scotchman ironworkers are capable of punching, shearing, notching or bending metal - and the above three designs are each built for different fabricating applications. You must be especially careful not to overwork the punch station, because the punching operation requires far more power than the other ironworker stations. Some ironworkers have features designed to prevent overload - but they aren't foolproof.
"When you have a machine de­signed to shear a 6-in. by 6-in. by 1/2-in. angle iron, a larger piece of an­gle won't fit in the cavity," said Jerry Kroetch, President of Scotchman Industries. "So in theory, you can't overload. But it is amazing what fabricators will try to do when they have an application that needs more power than the machine of­fers. They gamble that shearing a piece beyond the machine limits won't break the machine, but it's a 50/50 shot."
Using Bypass
Scotchman ironworkers have automatic triggered bypass to provide overload protection.
"The beauty of the hydraulics is that there is a built-in bypass, so if you try to punch or shear more than the ma­chine is rated for, it will stall and shut down, which elimi­nates breaking the machine," said Kroetch. "As far as the part goes, the worst thing that would happen would be an indentation in the material being punched, rather than a hole."
However, you should carefully measure your machine's capability rather than depend on a bypass which will stop your job in its tracks.
How Can I Tell What Kind of Force My Ironworker Can Withstand?
Take two steps in assessing your ironworker's ability to handle a job:
Determine the maximum sized hole you want to punch an dthe maximum thickness of your material.
Check the machine specifications and refer to a tonnage chart for the material you want to punch.
Kroetch said the machine specifications will give you an accurate idea of the machine's capabilities.
"Ironworkers' tonnage rating is based on the punch station. Look at the diameter of the hole that equals the thickness of material and the ton­nage recommended by the manufacturer to punch the maximum round."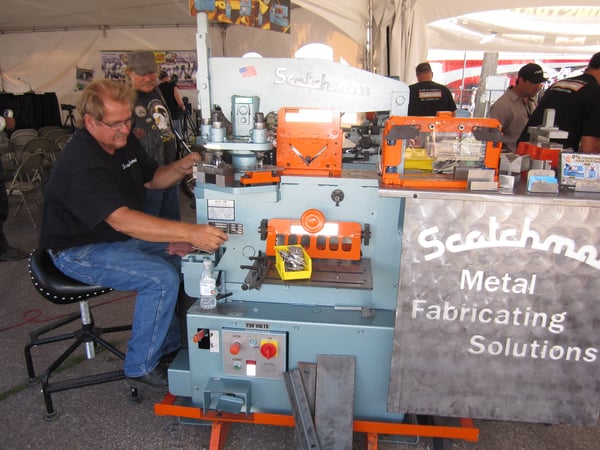 Rely on Specs
Your machine's specifications show its capacity limits, which suggest tonnage based on the tensile strength of the material in question, should guide you through most jobs.
However, If you come across a material with a tensile strength not listed in your specifications, contact Scotchman to help you calculate whether the job is safe for your ironworker. Scotchman can also help you consider different ironworker tools, which can reduce the amount of tonnage required for certain jobs. For example, a chisel point or rooftop punch might be more effective for certain jobs.
After looking at your specs, consider the hole you are looking to punch. Determine the:
Maximum hole diameter you need to punch
Maximum thickness of the material to be punched
Maximum thickness and width of the channel, angle, and rod to be sheared or bent
The material or part width plays a role in your ironworker's capability. The throat depth of an ironworker punch station should be greater than half of the part or material width; and the length and type of material are not an issue. An ironworker can manhandle most material at any length.
Check out the Ironworker Machines for Sale at Scotchman
If you are considering buying an ironworker, check out the ironworker machines for sale at Scotchman. You'll want to think carefully about the capabilities you'll require. Because there are many different types of steel and ranges of hardness, you should get a machine that is at least 20 percent larger than you think your everyday use requires, to avoid purchasing a machine that is ultimately too small.
Most machines are rated for use on material with tensile strengths between 60,000 and 65,000 pounds. Today, many mild steels have tensile strengths between 50,000 and 70,000 pounds or higher. Your metal fabrication equipment may not have the power to punch material at the higher end of the hardness values, so purchasing a larger machine than you think is never a bad idea. When in doubt, contact an ironworker specialist to help you.
Increase Tonnage for Steel
When punching hard steel, such as stainless steel, it is better to increase the estimated tonnage by 50 percent, depending on the grade of steel.
Be sure to compare the rating of the machine, not only in tons, but also the diameter of the hole and thickness of material it can punch. A 50-ton ironworker should punch a 1-1/4 inch hole in 1⁄2 inch material; a 60-ton machine should punch a 1 inch hole in 3⁄4 inch material; an 80-ton machine should punch a 1-1/16 inch hole in 1 inch material; and a 150-ton machine should punch a 1 7/8 inch hole in 1 inch material.
Have questions? Please contact a Scotchman us, our ironworker specialists are here to help. Tell us about your specific applications and we will recommend the correct machine for the job.