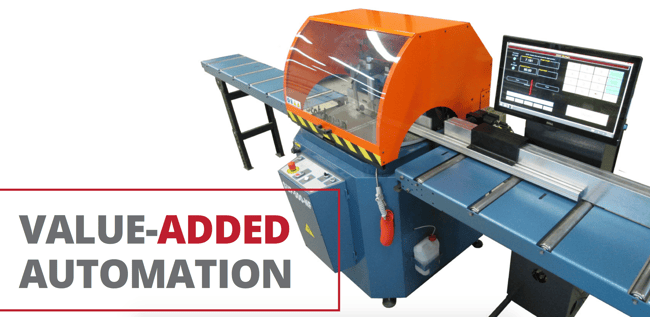 "Value added" should be a familiar phrase to anyone invested in improving business. For manufacturers looking to add value beyond their current cold saw or wet saw, Scotchman is providing even more fabricating solutions through sawing automation.
Advancing Our Sawing Solutions
Scotchman has been leading the industry in fabricating and sawing solutions since its start (almost 50 years ago).
But thanks to a partnership with RazorGage, a company that specializes in automatic measuring systems and software for automated processes, we're able to leap even further forward on our value-added cold saw line.
Mike Albrecht, our national sales manager, says customers are seeking technology that takes the labor out of the hands of the wet saw operator. The push system, created by RazorGage, uses customized software and allows operators to enter their cut list on a Windows tablet or large touch screen controller. This technology is intuitive and is as easy to use as your home computer.
Meeting New Industry Demands
American engineers are becoming more creative in their demands, meaning our manufacturers need new approaches to execute multiple-angled cuts.
Albrecht says that designs are rarely perfectly square, up or down anymore. Instead, there will often be geometric profiles added into the designs.
Mixing miter saws and automated solutions poses some unique challenges. To keep up, Scotchman has paired its non-ferrous saws with a feed system and RazorGage's AngleMaster software. Albrecht says the AngleMaster coupled with a Scotchman saw make for a good fit for operators that currently have to manually turn the head of the saw with every new angled cut.
"I don't like to limit it to any one industry," Albrecht says. "This saw takes the labor out of the jobs that require a variety of angled cuts per part, and it takes the error out of it."
The AngleMaster automatic push system feeds stock material into the miter saw at the proper length according to the cut list, which can be entered on the touch screen or by uploading a saved cut list via Wi-Fi, Bluetooth, or USB.
In the video below: See Mike discuss the AngleMaster feed system on our SUP-600 upcut saw.

Albrecht says the semi-automatic solution does most of the work for the operator. It does the critical thinking of setting the angle and indexing the material to proper length.
"Those exotic profiles can get very expensive," Albrecht explains. "So mistakes are very costly. Running it semi-automatically allows the operator to make sure that his clamps are holding the part properly before he actually sends the blade up through the cut."
Adding Drilling Options
Scotchman has recently jumped into another realm of sawing solutions, as the GAA series delves into vertical drilling – a first for us. The GAA 500 90 DT-20 is a fully automatic system with a CNC option. While it is an upcut saw with an automatic feeder, it also has the ability to drill and tap.
Adding the drill, Albrecht says, allows the saw to do more than a basic sawing function. It adds value with the secondary drilling operation. With the GAA series, operators can program automatic indexing of a single length of material and the saw drills, taps and cuts off the part at the same time.
People were curious why we went down this road because it's outside of our normal realm of what we do. But we have learned the importance of adding value to everything you do. Our customers want to be more productive, and we're constantly trying to add more value,into all of our product lines.
Bringing You the Next-Level Cold Saw
Could your business benefit from the added efficiency of Scotchman saws? Browse our cold saw product line by clicking below: