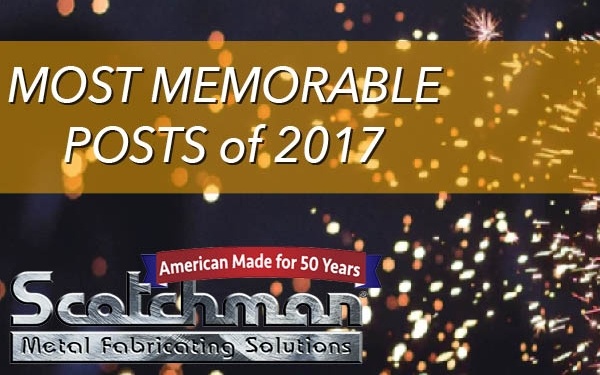 2017 was another fantastic year for Scotchman Industries, bringing major company milestones & anniversaries, developments in cold saw and ironworker products, and the continued support of our loyal customers.
Before we jump into 2018, we're taking a look back at the things that made the year 2017 so special at Scotchman by sharing the most memorable blog posts from 2017, ranging in topics from FABTECH, to President Donald Trump.

Scotchman Ironworker's 50th Birthday 50-Ton Giveaway
Scotchman's half century milestone proved to be an engaging topic for our readers, as Scotchman Ironworker's 50th Birthday 50-Ton Giveaway drew the most blog views this year.
The year 2017 marked a half century of Scotchman serving the metal fabrication needs of clients across the globe. To celebrate, we announced a giveaway that's worth a ton, 50 tons to be exact.
In honor of our Ironworker's 50th birthday, we gave away a 50-ton ironworker and a $1,000 tooling credit. The lucky winner was able to gift this new machine to the American school of their choice, inspiring the future generation about opportunities available in the field of manufacturing.
Scotchman President and Employee Celebrate Big Milestones with Company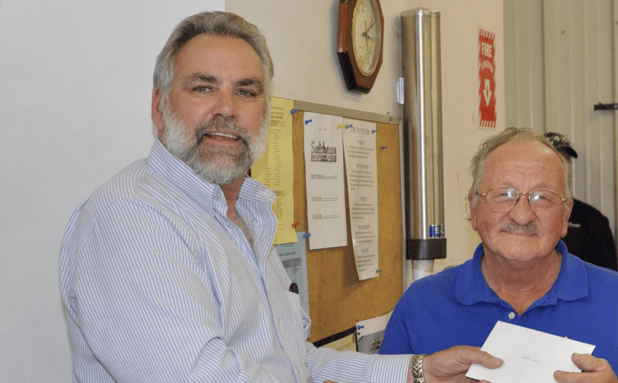 Working 20, even 30 years with the same company is an impressive accomplishment. ...So you can imagine that we're celebrating with Scotchman's President, Jerry Kroetch, and customer service manager, Alvin, for their contribution to Scotchman Industries of 40 years and 45 years respectively.
Current Scotchman President, Jerry Kroetch, began his work with Scotchman while in high school in 1976. After working alongside his father (and Scotchman founder) for almost 25 years, Jerry officially took over as Scotchman's president and CEO in 2001.
Like every good employee, Alvin knows the ins and outs of almost every department at Scotchman. During Alvin's 45 years with Scotchman, he's worked in welding, paint, final assembly, and the parts room.
Both Jerry and Alvin share a dedication and comittment to Scotchman Industries, unmatched by few others. When you ask family and coworkers about these "seasoned" members of the Scotchman team, you'll hear nothing but good things.
FABTECH 2017: Scotchman Machines at the Show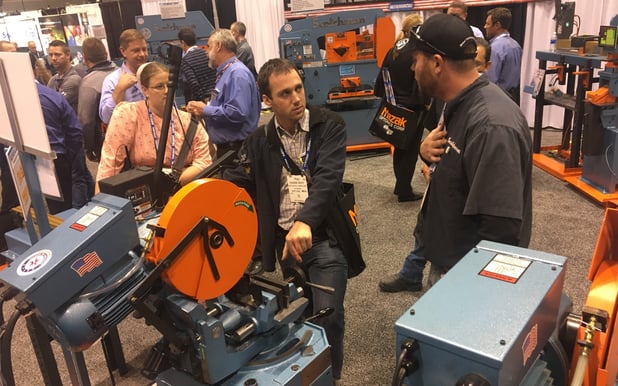 In November, Scotchman made the trip to Chicago for the biggest metal fabrication industry event in North America, better known as FABTECH.
In this post, we gave insider details about FABTECH, and also gave a preview of the types of cold saws and ironworkers Scotchman planned to showcase at the four day event.
Attending FABTECH is always an exciting opportunity for Scotchman to showcase our quality machines and provide one-on-one demonstrations, giving others insight into how they can improve their production and fabricating needs with Scotchman products. We've already saved the date for FABTECH 2018!
How Will Trump's Presidency Affect Manufacturing in 2017?
Donald Trump's victory in last year's presidential election was a surprise to many. With no political background, it made us think about how Trump's presidency will affect American manufacturing in the coming years.
All throughout his campaign and now presidency, Trump has seemingly coined the phrase, "America first." His desire to bring business and manufacturing back to the United States is a sign that companies who focus on making products in America can expect to see tax benefits for their commitment to America.
Although many things remain uncertain about Trump's presidency and the events and people that will capture his attention, manufacturing in America is in a really good place. We're excited to see what the next few years will bring for American manufacturing and American-made products!
Scotchman Supports Buying and Hiring American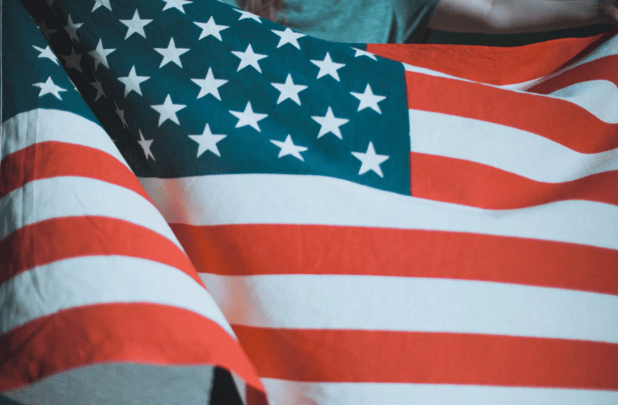 A term that's mentioned often regarding Scotchman's circular cold saws and ironworkers is "American Made." We're proud of where we come from (small town Philip, South Dakota) and we're proud of the American made products we make which help other American-based businesses.
To show our commitment to American-made products and values, we announced our partnership with Made in America Co. This group believes buying American made products increases the quality of the items you'll receive and stimulates the economy here at home.
When you buy a Scotchman machine -- whether it's a cold saw or an ironworker -- you'll have peace of mind knowing you're supporting an American company that's supporting a community.
The Future Looks Bright in 2018
It's fun looking back at our year. So many good things have taken place at Scotchman in 2017, making us even more excited to see what's to come in 2018!
One thing we do know about 2018 is that we will continue to serve our loyal customers through our quality American-made products all while providing outstanding customer service.
Curious to learn more about Scotchman's year? Take a look at our year in review video:
Interested in getting the latest manufacturing news? Subscribe to our blog and be the first to know about Scotchman specials, events, and manufacturing news.