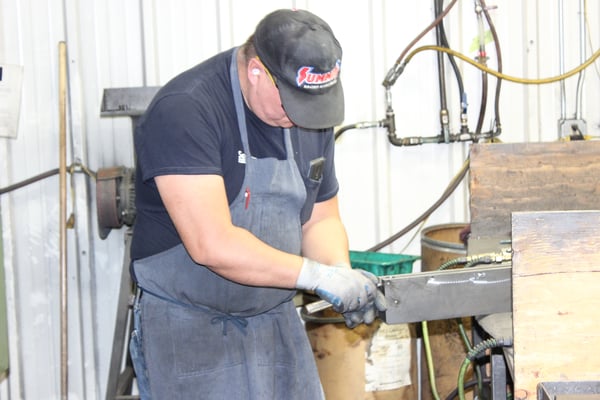 Scotchman Industries, Inc., a world-leading manufacturer of high-quality machinery for the metal fabrication industry, also offers a customized tooling service to provide you with tailored solutions for specific applications.
Custom Tooling Increases Versatility
Custom tooling is a major reason that today's ironworker plays such a major role in production. Scotchman's Special Tooling Department can design and manufacture customized metal working tools for any application you might need, whether you are using an ironworker or another machine.
Since ironworkers are our specialty, we'll explain why custom tooling is so important to these hydraulic machines, which are a staple of the metal fabrication industry.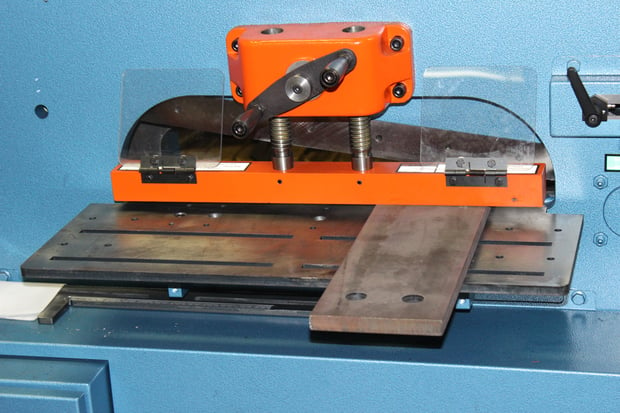 Ironworkers: Now a Production Machine
Since the inception of hydraulic ironworkers, the traditional machine came with at least three main tools: a punch for punching holes in plate or angle iron; a flat-bar shear for shearing plate (usually up to 24 in. wide;) and an angle shear for shearing angle iron to length. Many machines also have a built-in notcher for notching or nibbling into plate or angle iron.
That was about it. Shops had at least one ironworker for short-run or one-off jobs, and it was always a reliable workhorse for maintenance work. But the ironworker typically was not thought of as a production machine.
Today the hydraulic ironworker can indeed augment production. Two factors make this possible. One, the machine can accept various custom tools designed around parts or part families. Second, ironworkers now have positioning and gauging systems that add accuracy, repeatability, and efficiency to ironworker operation. Scotchman has a full line of these systems.
Custom Tooling: A Scotchman Specialty
Custom tooling is a Scotchman specialty. We can create custom metal working tools, whether it's a modification to a stock punch, or a custom die set that can punch a unique hole pattern with a single stroke. Our engineers' unparalleled design services have helped countless customers perform unique jobs.
We manufacture standard and custom ironworker tooling and punches and dies for steel fabricating equipment. Made from premium alloy tool steel and heat treated to Rockwell standards, these punches and dies are high quality and dependable. Choose from hundreds of standard styles and sizes, in-stock and ready for immediate shipment, or send Scotchman engineers your print or CAD drawing for a customized tool for your application.
So what are some real-world examples of how custom tooling can increase production for your ironworker?
Bending
Custom tooling is needed for certain bending jobs. An ironworker with a custom bending tool set can excel at making an offset or U-bend that standard ironworker tooling can't handle.
The CNC brake is a relatively advanced, expensive machine, so it has a higher operating cost (machine rate) than an ironworker. Bottom-bending brackets (with a CNC) tie up a machine that could be churning out complex air-bended components that require the press brake's ram repeatability and multiaxis, automated backgauging.

The hydraulic ironworker is a powerful tool that can be modified with special tooling to perform the work of jobs that are often done on other machines like a large press brake. Manual gauging on an ironworker can act just like a back gauge on a press brake. Narrow bending tool sets can be installed on either end of the ironworker, at the punching or tooling station. Longer bending tool sets can be installed in the tool table, where the machine's angle shear would normally go.
An ironworker that air-bends can handle a variety of material thicknesses. Still, the limit switches in the hydraulics driving the ram are not as accurate as on a precision press brake. Precise bending is still possible, however, with special tooling. For instance, a die with a solid stop at the bottom allows the ironworker to stroke down to the point where the material is formed, just as the machine bottoms on the stop. This is called coining and enables the ironworker to bend precisely without relying on a precise stroke control.
Special Punching and Notching
Custom punching and notching tools allow an ironworker to cut complex geometries in angle iron and plate. For instance, one shop we've worked with uses a specialty punch to broach a hex-head hole into predrilled bolt heads. These aren't three-cent bolts found at the local hardware store, but specialized bolt heads that can be more than an inch in diameter.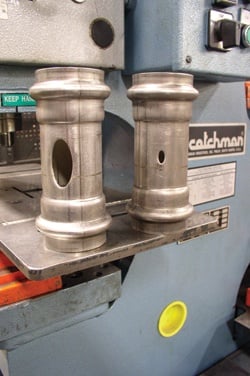 The operator drops the predrilled bolt head into a die designed specifically for the application. The die holds the bolt head in place while the hex-shaped tool descends to punch the hex-shaped hole into the head of the bolt. The slug material is forced down to the bottom of the predrilled hole.
Ironworkers also can handle tube, as one shop demonstrates with a custom tube punching setup. This application involves welded tubes that make a T-joint. The tubes are preformed to match a coupler, and the design calls for an oval hole to be cut out of the cylindrical tube.
On the ironworker, a tube is inserted over a custom mandrel, which supports the tube and also serves as the die. A punch then descends to cut that oval hole.
Other Tools
We can create other custom metal working tools such as cluster punches, which can cut complicated patterns in one hit. The custom tool design must consider slug removal; a four-hole cluster punch tool set must ensure all four slugs can be efficiently dropped out of the machine. These special punches make specific hole patterns; a four-hole punch makes a four-hole pattern in one hit. If you used the same tool to make only two holes, you could side-load and damage the tool.
For the right application, accurate positioning and custom tooling can help turn the ironworker into a viable production machine.
Contact us for Special Tooling Needs
Need special tooling for one of your projects? Click below to contact us about the application you need and we'll be in touch soon!