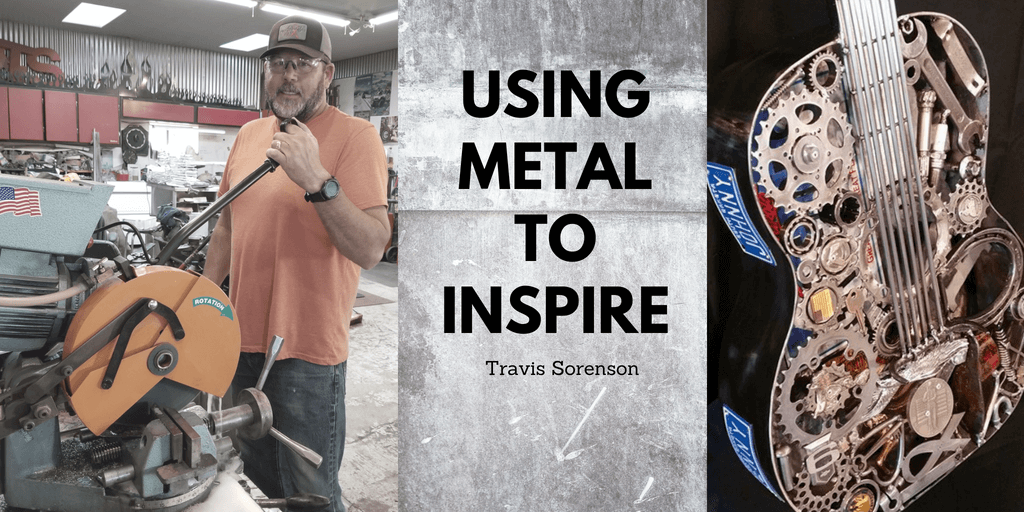 Travis Sorenson of Sorenson Metalworks, was first introduced to Scotchman machines over 25 years ago when a demo truck stopped at his place of employment...but his love for welding and fabrication came from his family. Today, Sorenson uses a Scotchman Circular Cold Saw to create pieces of metal artwork which are an inspiration to all who stumble upon them.
Scotchman's Q&A with Travis Sorenson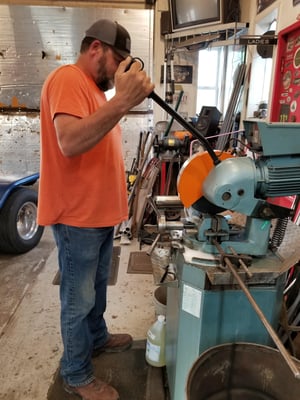 Q: How did you discover Scotchman?

TS: "I worked for American Colloid in their Fab Shop, which had a 40-ton Scotchman Ironworker. I saw the use and abuse that Ironworker went through and how well it held up. During this time, Scotchman presented a truck demonstration of their products (including a cold cut saw) and I admired the quality of all their products."
Q: Which Scotchman machine do you own and how do you use it?

TS: "I own the CPO 275. I bought it used, but it was 'like new' condition. I use my cold cut saw to cut exact length and volume pieces. I also use it to cut perfect angles."
Q: Have you had any experiences with Scotchman's Customer Service Department?
TS: "I have! Scotchman's customer service team has been extremely helpful and courteous. In fact, I wish I would've called sooner. They took the time to listen to my needs and made a recommendation for saw blades that have worked perfectly!"
Q: Tell us a little about yourself and your business/art.

TS: "I have been in business for 26 years. The first few years were part-time while I worked for American Colloid. Most of my years were spent doing repair work on pretty much anything that came in the door; concentrating mostly on trailers, truck beds, and building whatever was needed. I also did snow removal services during much of that time, which as you know is a lot of work in South Dakota! I have always done a bit of metal art work and built functional items with metal, but over the last 5 years I have made my focus artwork."
Q: What's the best thing about your job?
TS: "Inspiring people, helping people, and challenging myself to see what I can create next."
Linking Life with Art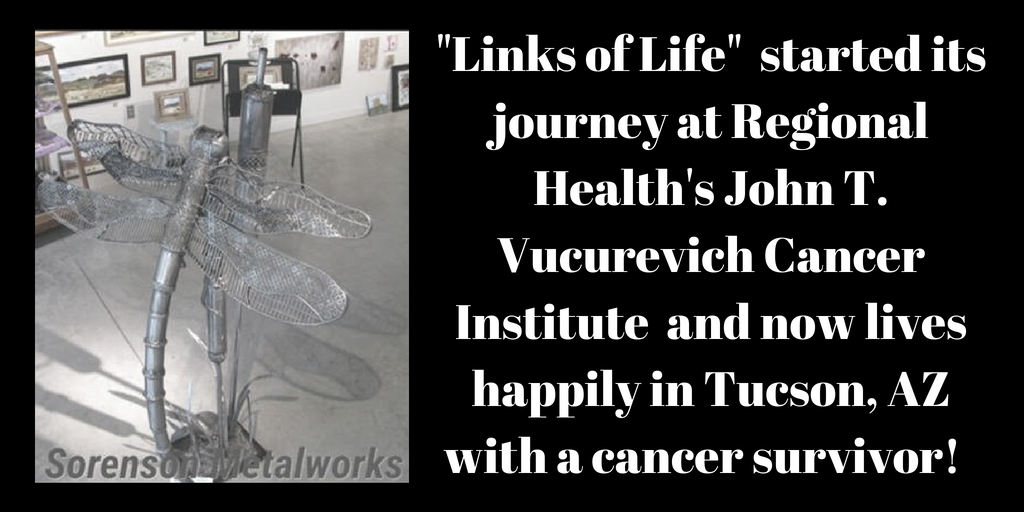 When Sorenson's wife, Shawn, was diagnosed with cancer, his outlook on life took on a new meaning. "I've realized that people are more important than anything. I want to help more and do more," says Sorenson. To occupy his mind during this trying time he created a 5 ft standing dragonfly piece that he calls, Links of Life. Links of Life first home was at Regional Health's John T. Vucurevich Cancer Institute as an inspiration and distraction for people undergoing treatments...now it lives happily at a cancer survivor's home in Tucson, AZ!
As Shawn's health improved, Travis's new outlook on life did not waver. Instead, he wanted to continue finding ways to inspire people.

Finding the Right Connections
Pictured left to right: Big Kenny, Cowboy Troy, Travis Sorenson, Shawn Sorenson, John Rich
"We [Travis & Shawn] took a leap of faith and took the guitar sculpture I built to a Big and Rich concert. We got invited to their meet and greet where we donated the sculpture to Big and Rich and have since collaborated with them and the Deadwood Mountain Grand in creating a display that has generated money for Veterans! I feel it's my way to support our vets, military, and the USA."
A similar guitar was created by Sorenson, and in conjunction with the country music duo Big & Rich (B & R), it was once again donated to a great cause, just a little further away from home this time!
"I constructed a Yuma AZ, Breast Cancer, and Big and Rich themed Guitar that was donated to Bridget's Gift. We drove it down to Yuma AZ, and together with B & R, we donated this guitar to raise money for the nonprofit organization Bridget's Gift. My wife, Shawn, was grade school friends with Bridget's cousin, Nikki. Bridget passed from breast cancer in 2011."
Respect as Inspiration

You can find a few Sorenson pieces in the lobby of the Deadwood Mountain Grand (DMG) in Deadwood, South Dakota. Front and center is an absolutely breathtaking sculpture named Eleven Feathers. The attention to detail and minuscule welds on this piece of art are mind boggling. If you catch the light just right when looking into Eleven Feather's mouth, you will be pleasantly surprised! *Take a trip to the DMG to look for yourself.
The Eleven Feather's sculpture won 1st Place People's Choice Award at Sculpture in the Hills in Hill City, SD.
"My inspiration for Eleven Feathers comes from the respect I have for our indigenous people. They must have had tons of ingenuity to survive; from hunting for food, surviving the elements, and making a place to live. They were also very strong in their beliefs; spirituality, honor, and respect. I strive to have many of these same qualities...honor and respect are the biggest parts of my life in one form or another. In the early years of the Crazy Horse Volksmarch, my family and I would participate in the 6.2 mile hike to the top of the mountain. Being able to see the Crazy Horse Monument develop into what it is today has been inspiring. Knowing what it takes to do a sculpture in honor of such a great person, and having a slight understanding of the massive undertaking it is to create something like that is so awesome." Travis Sorenson
Fun Fact: "The "Big" of Big & Rich, is "Big Kenny" Alphin, whom is one of the partners in the downtown Deadwood [SD] venture. The Deadwood Mountain Grand (DMG) is the former Homestake Mine slime plant ore-processing facility, which has been converted into a hotel and casino property with a 2,500-seat hall which hosts live music and other events." -Expert from the Rapid City Journal.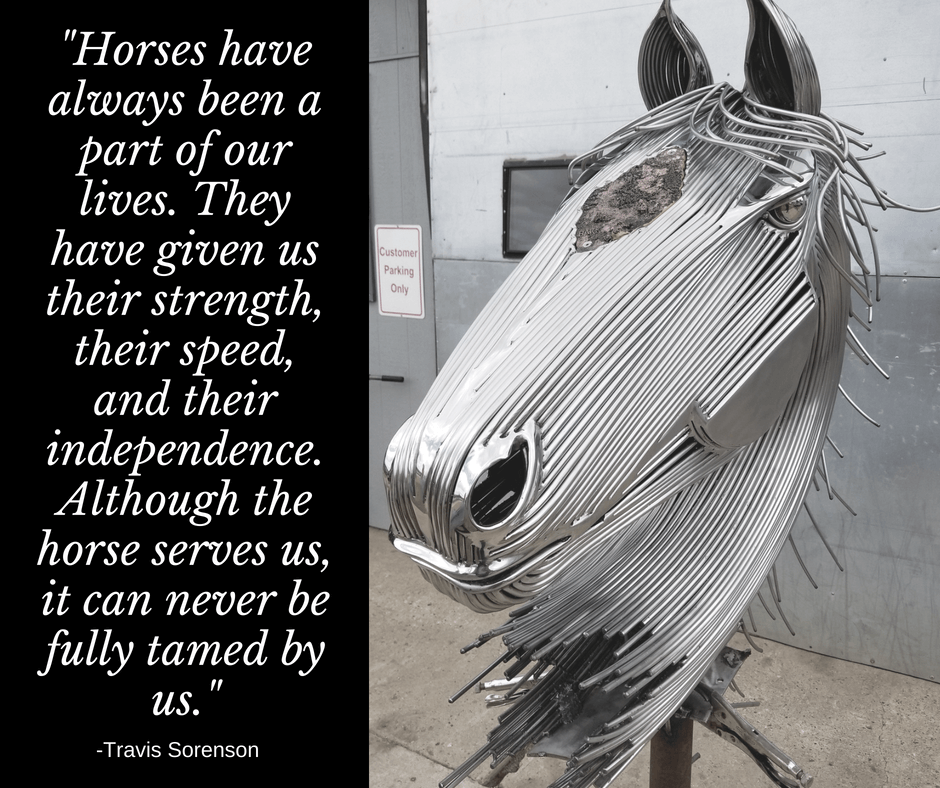 Whirlwind of Life
We applaud you, Travis, for riding the whirlwind of life and are delighted that Scotchman Industries has been able to be apart of your journey!
Check out Sorenson Metal Works on Facebook and Instagram to see what else Travis has created!
Psst: Travis was awarded Best-in-Show II at this years 2018 Sioux Falls Sculpture Walk with the Horse pictured above. Congratulations! Keep up the good work Travis!
Find Out More About How Scotchman Can Help You
Interested in reading more about how Scotchman machines are used in other fabricator's shops? Click here to read additional blogs & learn more about Scotchman's metal fabricating solutions. If you have questions contact our team of specialists who will cater to your every need -- whether you are doing a project with your ironworker or interested in getting one for yourself.