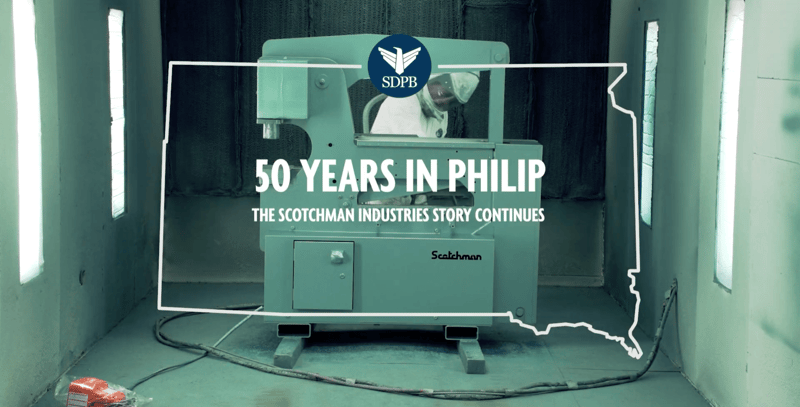 We are proud to be featured on the South Dakota Public Broadcasting (SDPB) program, Dakota Life, in recognition of our 50 years of excellence in the metal fabrication industry.
If you're not from the 605 area code you've probably never watched Dakota Life. It is a state program that celebrates the people and happenings here in South Dakota.
New episodes premier on the first Thursday of every month at 8:00 pm Central Time, 7:00 pm Mountain, from September to June. Or, just watch online here.
But now for the BEST part...
See for Yourself
Founded in 1967, Scotchman introduced its industry revolutionizing product, the 35-ton hydraulic-powered ironworker, with only six employees. Today, Scotchman Industries manufactures 13 different ironworker models among other products and employs around 80 people.
Big businesses in small towns – sometimes it just works. Sure, there are challenges, but Scotchman Industries Inc., located in Philip, S.D., a town of 880 residents, not only made it work, they're thriving.
Today, Scotchman is the oldest and largest hydraulic ironworker manufacturer in the United States and the largest manufacturer of circular cold saws in North America.
See our feature on Dakota Life below:
We are thrilled to have SDPB's help to broadcast Scotchman Industries story, from Art Kroetch founding the company all the way to celebrating our 50th year of building the Scotchman hydraulic ironworker.
Thanks for Watching
Our South Dakota story would be a lot shorter without all our fantastic customers, so as always we want to thank them. And thank YOU for watching!
Please share the video on Facebook! Be the first to know about all things Scotchman by subscribing to our blog:
Click the logos below to read featured articles about Scotchman Industries through the years: