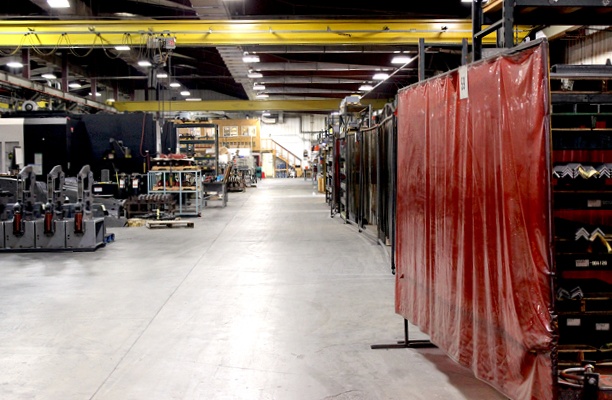 Scotchman Industries applies the lean principles to our manufacturing operations. We build heavy metal fabrication and metal working tools every day on the manufacturing floor.
But what exactly is lean? Essentially, lean means doing more with less. By eliminating or reducing waste in a work process, you save time and thereby save money. Waste can be reduced in every department, including manufacturing, customer service, and distribution.
History of Lean Production
Lean production is an assembly-line method developed originally by Toyota for manufacturing automobiles. Lean principles don't just apply to manufacturing. All areas of a company must be viewed and considered when determining where to reduce or eliminate non-value work.
The goal of lean is to improve productivity with reduced inventory. At Scotchman, this is how we do business, and we want to help you reduce waste and improve efficiency for your company. There are several key lean manufacturing principles that need to be understood in order for lean strategies to be implemented.
Eliminate Waste
The elimination of waste is the most critical principle of lean manufacturing. Types of waste for metal fabrication manufacturing include overproduction, waste of unnecessary motion, waste of inventory, production of defects, waste of waiting, waste of transportation, and waste of overprocessing.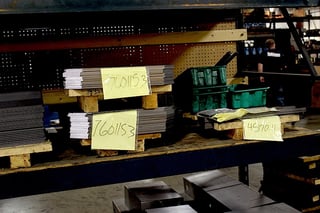 Start by organizing the manufacturing floor into assembly lines that make sense and follow the flow of production naturally. Label tools, parts, and sections so workers know exactly where to find something and don't need to waste time searching.
Out of the seven principles, waste of overproduction is the most concerning. Continuing to build regardless of orders isn't efficient or effective. In the lean manufacturing ecosystem, zero work orders equals zero production.
Continuous Improvement
Continuous improvement is the basis for implementing lean principles. Change will only be effective if it stimulates constant application and growth. Changes don't have to be big. Small changes can add up over time. This approach is less overwhelming for workers and often winds up being more successful. Keep the big picture in mind, but focus your efforts on small, minimal adjustments over a period of time.
One strategy that often breeds new ideas is what's known as the Fresh Eyes Approach. By introducing an individual to an area he or she is not familiar with, you have the opportunity to receive unbiased thoughts and suggestions. Who knows, you may be overlooking something that could be resolved with an outside perspective. Fresh eyes lead to fresh insights.
Respect for Humanity
This lean principle has to do with people. Your people are the most valuable resource your company has. Without them, a business will not succeed. If people do not feel respected, they may lose respect for a company.
Generally, people want to do well at their jobs. Millennials especially work to fulfill a lifestyle instead of only working towards a paycheck. Help your employees develop a sense of worth in their work. By having a respect for humanity mindset, your workers efforts and contributions towards company goals will help them feel like they're apart of something bigger than just showing up to receive a paycheck.
Levelized Production
The core of lean manufacturing is levelized production. This means that workloads are the same level every day. Some manufacturing companies produce strictly on forecast or on orders from customers. Levelized production considers both forecast and history. What's key here is implementing a pull system.
By having a good forecast and record of shipping history, you can set volumes for production. A history of customer orders will help you understand areas of fluctuation, and a forecast will help set an accurate volume.
Quality
The final major lean manufacturing principle is referred to as quality built in. Quality must be applied to the manufacturing process, design of the parts, packaging, and all areas of production. Doing work right the first time around is the focus of lean manufacturing. It's an investment in a system for improving efficiencies within the manufacturing process.
Doing More With Less
Lean manufacturing helps us improve efficiency and ultimately get more done with less. As mentioned earlier, taking small steps with a larger picture in mind is an efficient and less overwhelming approach to implementing lean manufacturing principles. Share goals with workers so everyone is on the same page and feels like they're a part of a team. Some may resist change at first, so be sure to share the benefits of lean manufacturing principles with all employees.
How does your company implement lean? Submit a comment below or feel free to reach out with any questions. We'd love to hear from you!
Stay up to date on manufacturing industry trends by subscribing to our blog and receiving email updates on future posts.