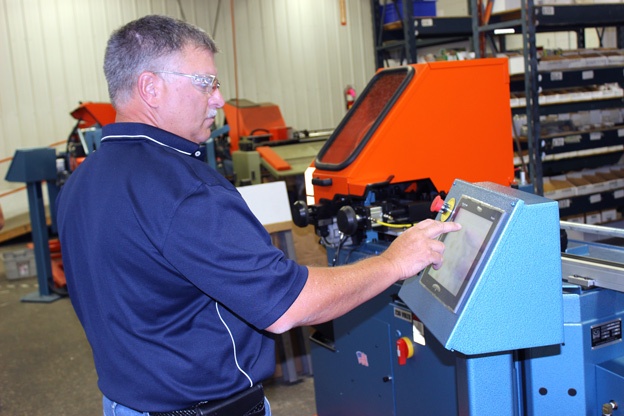 A durable metal cutting saw is an indispensable tool for those who work in industrial and construction fields, but to know exactly which type of saw you need can be a challenge.

Metal Cutting Saws — Choosing the Right Machine for the Job
With all the different types and models available on the market today, it's important to first weigh some key factors before making the investment. Buying the correct machine for your job is crucial to maximizing owner benefit and obtaining optimum results.
Circular cold saws are designed to handle a variety of metals, including mild steel, stainless steel, and aluminum; but these machines can also be used to cut materials like wood, plastic & fiberglass. Once the type of material has been identified, consider the angle and shape of the cut, the size and thickness of the material, parts volume & whether or not you are cutting one piece at a time or bundles of material.
Pros and Cons
After these factors are outlined, we can identify the pros and cons of different machines for specific applications. Cold saws are best suited for cutting tube, pipe or smaller solid material; whereas, band saws can cut larger structural material and larger solids. "If you stay within the specifications of a cold saw, it's the best machine for your cutting needs," says Scotchman president Jerry Kroetch.
If you're unsure where to begin, consult an expert before you make a purchase. With almost 50 years of leadership in the metal fabrication industry, Scotchman Industries has developed a solid reputation as "The Preferred Solution For Metal Fabricators." Scotchman is known for high quality products and superior customer service.
"We ask our customers a lot of questions about their application so we fully understand what they are trying to make," explained Kroetch. "Then we can recommend the best machine for the job."
"Each fabricator's application is unique and it is important we match our customers with the machine they need so it will continue to benefit them for years to come."
Ferrous or Non-Ferrous Materials
For cutting ferrous or non-ferrous material, Kroetch recommends a Scotchman cold saw.
Circular cold sawing is unique because the blade turns at very low RPM which produces fast, burr-free cuts without sparks. Unlike an abrasive saw, with a cold saw the heat is transferred away from the cutting surface so the object being cut does not get hot. A coolant system is necessary to keep the cold saw blade cool and lubricated. Each Scotchman cold saw is equipped with a full coolant or mist lubrication system.
Examples of Non-ferrous Metals
Aluminum
Brass
Copper
Plastic
Fiberglass
Examples of Ferrous Metals
Alloy steel
Carbon steel
Wrought iron
Stainless Steel
Different Sizes and Styles
Cold saws come in a variety of styles & sizes with varying levels of automation. After you decide on the correct style of saw you need, then investigate the level of automation required. To do this, consider the volume of material that needs to be cut. Are you cutting individual pieces or bundles? A cold saw is able to cut bundles of thin material; whereas, if your material is large diameter solid or larger structural material, a band saw may be a better option.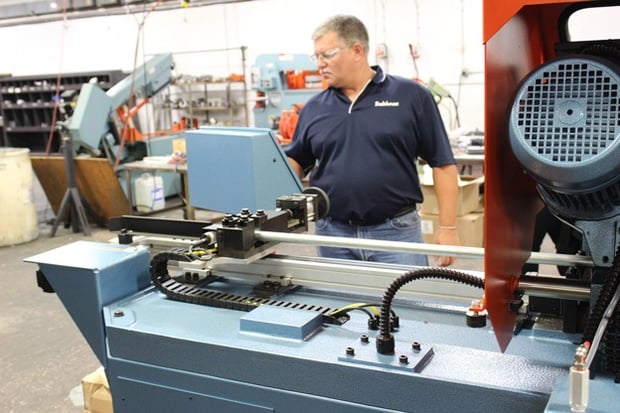 Consideration of your production schedule is also essential. It will help determine the level of automation you require. Scotchman saws are available in manual to fully-automatic versions. It is important to get the right saw now for your job, instead of later wishing you had. Perhaps you already have a saw and now need automation? You are in luck because Scotchman's programmable measuring and material feed systems can be coupled to your saw to increase its production and reduce operator error.
Scotchman - A Leader in Cold Sawing Technology
If you are looking for a cold saw for sale, just ask the experts. Scotchman is the oldest and largest manufacturer of circular cold saws in North America. With 35 years of cold sawing knowledge and innovation, Scotchman Industries continues to be "The Preferred Solution for Metal Fabricators." Today, Scotchman manufactures and distributes a complete line of cold saws for every application.
Both pivot and upcut style saws are available in manual, semi-automatic and fully-automatic versions. Scotchman offers an outstanding 3-year warranty on our cold saws (2 years on automatic cold saws), as well as, affordable leasing plans that range from one to five years.
To learn more about our cold saws and to view our product line, click below.