Ironworkers are powerful metal manipulators that have evolved in the nearly 50 years since Scotchman purchased the patent for the first hydraulic ironworker. So what exactly can an ironworker do?
Ironworkers: Punching, Shearing, Bending...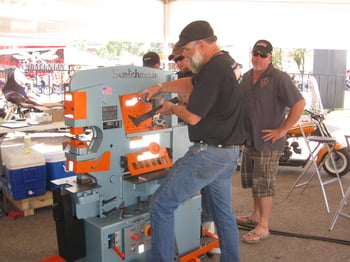 An ironworker fabricates items out of metal. Whether punching, shearing, notching or bending, the machines are made to manhandle whatever you can throw at them and are essential for manufacturing or fabrication shops, maintenance departments, vocational schools and more. Capable of smooth and clean cuts, ironworkers save time, increase productivity and eliminate waste.
Up to 150 Tons of Brute Force
These powerful machines have revolutionized the metal fabrication industry, as they make quick work of metal shaping. Using hydraulic rams powered by an electric motor, ironworkers plow through metal with hardened steel blades. The ironworkers are fabricated out of heavy steel that can withstand the enormous force that is necessary to manipulate metal.
Scotchman Machines
Today, Scotchman has a complete line of 13 different ironworkers, ranging in capacities from 45 to 150 tons. Choose from a component tool design or fully integrated European style; both are available in either single or dual operator models.
Component Tool Table Design
Scotchman Component Tool style machines are versatile and dependable, capable of punching, shearing, and notching. Scotchman's unique component tool table design is compatible with most standard tools in the metal fabrication industry including press brakes, channel shears, rod shears, tube shears and pipe notchers. These component style machines allow users to swap out tooling in seconds!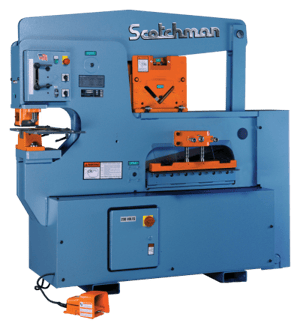 Scotchman's fully integrated machines are popular among fabricators because the punch, flat bar shear, rod shear, rectangle notcher, and the slug-less angle shear are built-in.
The FI 8510 is a fully integrated ironworker with five built-in work stations capable of:
punching (85 tons of capacity)
flat bar shearing
angle shearing
rod shearing
rectangle notching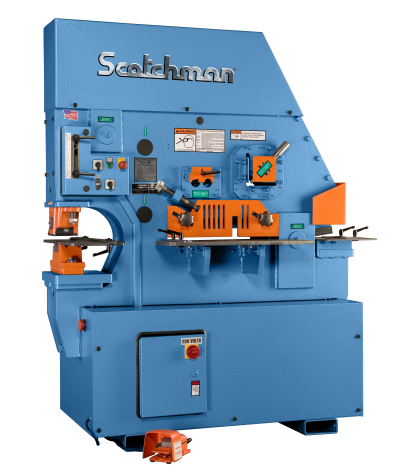 The DO 8514 (discussed more below) offers a fully integrated European design that includes a rod shear in addition to the punch, angle shear, flat bar shear and notcher stations.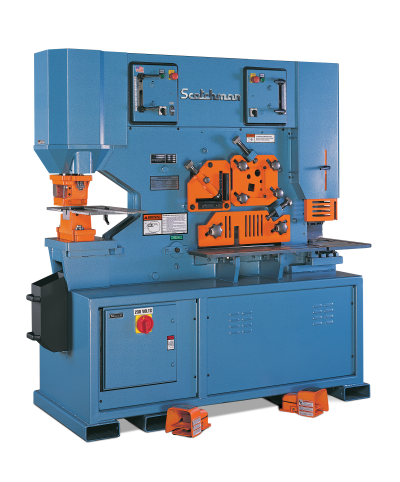 Scotchman Dual Operator Machines feature a hydraulic system designed to ensure full hydraulic power and speed for both operators.
The dual operator DO 8514 allows two machinists to work simultaneously at full capacity and is the most versatile fully integrated style machine in the world. It is designed to remove the rectangle notcher and replace it with a 90-degree notcher, extra punch station, press brake, or pipe notcher.
The DO 70, DO 95, DO 120, DO 135 and DO 150 models feature our versatile tool table design, and come standard with a punch, angle shear, flat bar shear and notcher.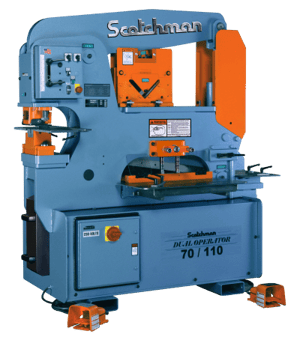 Add-ons: Programmable Stop Systems
The Scotchman Programmable Stop Systems work as a great addition to any of our hydraulic ironworkers. The semi-automated measuring process will increase production, decrease set-up time, reduce operator error and eliminate scrap.
Want to see firsthand what a Scotchman can do? Click below to request a free demo!