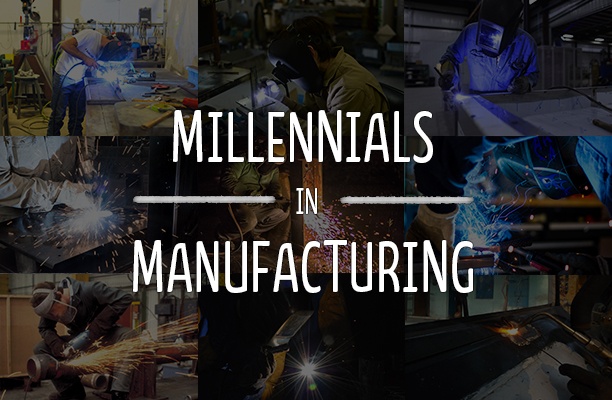 Millennials are the inevitable future of manufacturing.
Leaders in the prefabrication manufacturing business today must understand what makes the Gen-Y generation tick in order to grow.
We want to offer our knowledge and help other employers guide millennials and inform them of what the modern manufacturing world has become. In order for any manufacturing industry to grow, a younger generation of skilled and knowledgeable labor is needed.
So how can your manufacturing business inspire millennials? How can you encourage them to pursue a career in manufacturing?
3 Ways to Inspire Millennials to Join Manufacturing
Welcome to our Millennials in Manufacturing blog series. To stay up to date on our Millennials in Manufacturing blog series, please subscribe to our blog and receive email updates on future posts!
Here are three big ways your manufacturing business can inspire millennials.
1. Create a team-oriented atmosphere.
Back in 2015, The Go Game took a poll to understand the cultural shift in the younger workforce. They determined that roughly 79% of millennials (aged 21 to 30) find that team building activities improve company culture in their organization significantly and help retain talent. When asked if building a team is worth the time and effort it takes, 88% of millennials workers responded positively.
Build a friendly workplace culture and make millennials feel like they are part of a team. Happy people are better workers! Those who are engaged with their job and colleagues work harder and smarter.
2. Give them creative freedom to do their work.
Micromanaging can be a deal breaker and a managing strategy that tends to push millennials away. It may sound silly, but strict rules tend to stifle a millennial's independence and motivation.
Because they prefer to learn on their own and figure out what works best for them, using guidelines vs. rules will allow them some room to express themselves with their work processes which can in-turn motivate innovation.
3. Provide constructive and frequent feedback.
Some might assume that millennials lack accountability because of their creative independence and need for freedom. But this is entirely untrue. Millennials do want freedom, but they also want to hear your feedback! They like to know how they're performing and where there's room for improvement.
If you're a manager, provide both good and bad feedback -- just make sure it's constructive. While you give them advice on where to improve, help point them in the right direction further by letting them know you value and trust their opinions.
By empowering a millennial and giving the right guidance, your manufacturing business will stand a good chance of retaining and attracting a younger workforce.
Welcoming Millennials to Modern Metal Fabrication Industry
Keep our tips in mind as we continue to inspire young manufacturing leaders and build the talented workforce of the 21st century.
Be sure to look back for more tips on inspiring the millennial workforce, and subscribe to our blog so you don't miss a post!
Do you have any insights working with millennials that you'd like to share? Comment below! We'd love to hear your input.