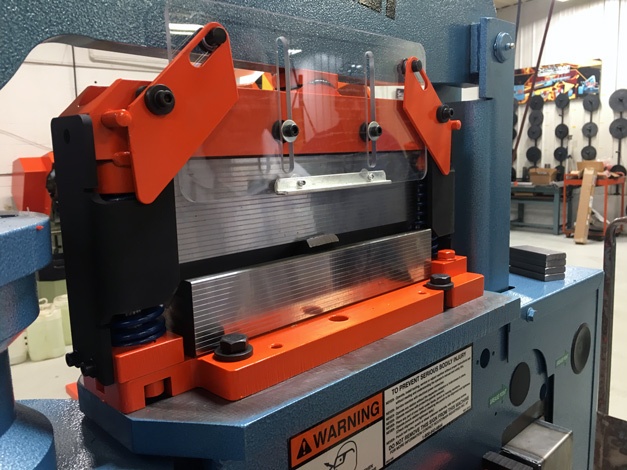 Scotchman Industries is excited to introduce a new and improved 50-ton, 3-station turret hydraulic ironworker, model 5014-ET. Now, with standard electric stroke controls, this ironworker is more precise and accurate than ever before.

Increase ROI with Scotchman's New 50-ton Ironworker
Scotchman's New 5014-ET takes our trusty 5014-TM ironworker to a whole new level! The integration of our improved electric stroke control gives this machine the precision and repeatable accuracy as any other ironworker on the market today.

Shop owners, machinists, fabricators and metal enthusiasts who are looking for ironworkers for sale will want to take a serious look at how Scotchman's 5014-ET can benefit your business.
More Value for Your Money
Upgrading our new 5014-ET ironworker to a fully-electric stroke control not only increased the machine's accuracy & precision, but it actually extended the life of the machine too! The new electric stroke has eliminated virtually all moving parts that come along with a mechanical system, making maintenance and troubleshooting a cinch.

With the stroke control being electric rather than manual, it has virtually eliminated the human error from this portion of the metal fabrication process; increasing your ROI yet again.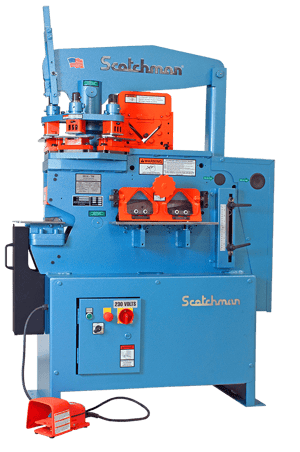 And, there is an added bonus -- with the new electric turret machine, both the work light & bar shear laser light can be wired directly into the machine. No more 110 volt cords!

This electric stroke control has only been available as an add-on option for our 50-ton turret ironworker until now. The added benefits from this feature were far too great to not fully incorporate it into our final product.

"We [Scotchman] are in the business of making other businesses more efficient and it is our goal to continually manufacture machines that surpass our customers expectations," said Jerry Kroetch, President of Scotchman Industries. "So, when improvements like this come up, we have to take full advantage to continually improve our machines. We just made the most versatile ironworker on the market even better!"

These upgrades are included at the same affordable price as the 5014-TM, making it a top choice among our selection of ironworker tools.
Consistent & Repeatable Accuracy
Once the stroke has been set, the punch will stop at that precise height every time! This feature saves you time by eliminating unnecessary trial-and-error. You'll be able to set the stroke with just enough clearance for your part, shaving off even more time. And once set, it will not slip and will provide consistently accurate parts, every time!

With Scotchman's 5014-ET ironworker, you will be able to work faster and save money with a machine that already saves a bundle of time for your shop. Because the new electric stroke is so much more precise and reliable, customers who make clips, brackets, etc. will consistently have the same bend every time!

This new ET model is the same powerhouse as our previous 5014-TM, 3-station turret ironworker, but even better! Increase your ROI with an American-made Scotchman ironworker today.
Slug Bucket Now Standard
Also, a new standard feature on ALL Scotchman ironworkers is our slug receptacle. This container that catches the slug that falls after the punching process has always been optional but, not any more.

Our ironworkers are backed by Scotchman's Best-in-the-Business 3-Year Warranty, just one reason Scotchman is "The Solution PREFERRED by Metal Fabricators."
Check Out a Scotchman
Looking for ironworkers for sale? We have a full line of 13 models ranging from 45 to 150 tons in three distinctive styles. Click below to browse our inventory.