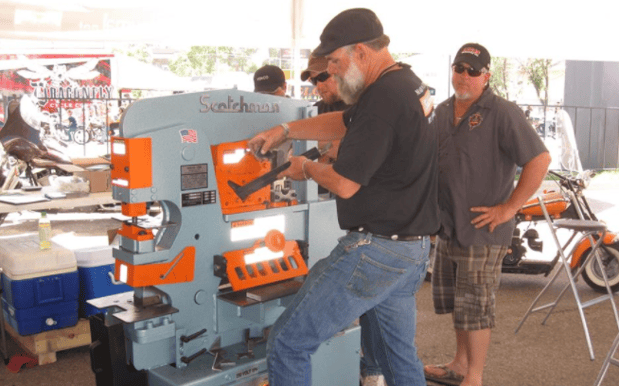 Every business claims to have excellent customer service, but we all know this claim isn't always the truth.
In today's world, it has become harder to find a real person to speak with on the phone, let alone see them face to face. All too often, when trying to navigate through an automated phone system it can become a long and drawn out process. When you're provided with a long list of options to choose from, with many of these options leading you to a voice mail box anyway or directing you to a website.
This form of "service" is rarely helpful, and usually quite frustrating. Luckily for you, Scotchman Industries believes in the human connection and highly values open communication. Which is why we ALWAYS have someone answering our phone during office hours.

At Scotchman, our business is building ironworkers and cold saws, but our company was also founded on the principle of providing well-built machinery to help our customers find efficient solutions for their shop needs.
Just because Scotchman Industries is headquartered in the small town of Philip, South Dakota, doesn't mean we can't give you quality service tailored to your needs.
Learn how to get a Scotchman sales rep to travel to your doorstep, demonstrating Scotchman's machines in action while offering solutions and answering all of your metal fabrication equipment questions.
On-Site Metal Fabrication Equipment Demonstrations at Your Doorstep
While our Scotchman catalog can give you a good idea of our products, it's helpful to see ironworkers and cold saws in action before you make your investment.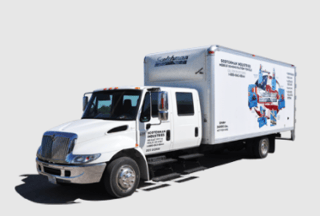 If you live anywhere in America, you can see Scotchman machines in action with our on-site demonstrations! Scotchman Industries has 16 mobile demonstration vehicles that travel to all of the lower 48 states!
Each demonstration vehicle includes a wide variety of our hydraulic ironworkers, circular cold saws, tube and pipe notchers, measuring systems, band saws, and other metal fabrication products, giving you a little piece of Scotchman right at your doorstep!
And if you're in the Philip, SD area, you're welcome to stop by our factory to take a tour and see our machines in action. You can also send your material directly to us for test cutting. Once we cut your sample material, we'll quickly send it back your way with a detailed cut evaluation report!
Experts on Scotchman Machinery
Scotchman sales representatives know a thing or two about metal fabrication equipment, especially ironworkers, cold saws, and automating options. Our reps are trained in how to use our machines, and are eager to show you how Scotchman machines can improve your production and fabricating needs.
As our reps travel across the country, they're ready to show you the latest and greatest Scotchman machines. Not only will they demonstrate our American-made machinery, they'll also show you proper methods for using these machines, giving you insight into how Scotchman metal fabrication equipment can increase accuracy and efficiency to your current metal fabrication process.
Bringing Personal Service to Your Factory
Scotchman has reached 50 years of business because of our customers, that's why our sales representatives sincerely want to assist you in whatever way possible. Even though there is a greater push toward automated chat-bots, there's still nothing like a good old face to face meeting.
Scotchman's on-site demonstrations are the perfect opportunity for us to meet you, showing you our ironworkers and cold saws in action, and discuss how our products can benefit your business and make your job easier.
The vast knowledge of our sales reps will help you find the best tool for your application, or our engineers in our custom tooling department can help you build a custom tool to fit your special project.
For Scotchman, it's more than just making a sale. It's our goal to build meaningful relationships with our clients, many of which begin with an on-site demonstration!
Let us help you create efficiency within your business, and increase your bottom line with our metal fabrication equipment. Read what our customers have to say about our service, and schedule your on-site demonstration today!
Have a question for us or simply want to make contact? We're ready to talk and are here to help! Reach out to us by phone at 1-800-843-8844, or e-mail us at info@scotchman.com.