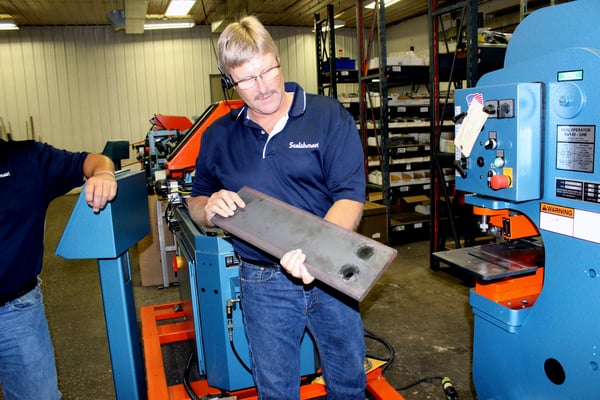 Punching a hole in metal takes a ton of force -- tons, actually -- which is why our ironworkers pack so much hydraulic power.
With 13 models ranging in capacity from 45 to 150 tons, our ironworkers can efficiently punch holes in mild steel ranging from ⅛" to 1-¼" thickness, depending on the model. These machines can also shear plate and angle iron, as well as notch and bend the material. Scotchman ironworkers are standouts among metal fabrication machines and produce clean, accurate punches and cuts. It's a powerhouse no fabricating shop should be without.
Punching: A Scotchman Specialty
So what is so special about our ironworkers' punching ability? We designed a special process to ensure you get the most out of your ironworker and all of its parts. Our metal working tools are extremely well-built; customers have been known to use the same machine for decades. You'll also receive our Best in the Business 3-year Warranty with the purchase of an ironworker.
Fast and Accurate
First, let's talk about precision and speed. A Scotchman can punch holes 10 times faster than a drill press, saving hundreds of hours of time and labor. That punch you are using won't wear out anytime soon, either. You can get 3,000 to 5,000 holes out of $36 round Scotchman punch and die set, as opposed to a drill bit that wears out after drilling a few hundred holes. Our custom tooling department can also customize your punch for nearly any job.
Whether it's a modification to a stock punch, or a custom die set that can punch a unique hole pattern with a single stroke, our engineers' unparalleled design services have helped countless customers perform unique jobs.
Punching is as easy as setting the punch/shearing switch, moving your safety guards to the correct position and placing the metal under the punch.
Depress the foot pedal and your ironworker will punch a nice clean hole in the time it takes to staple two pieces of paper together.
Two Punching Methods
Now that we are on the topic of how fast and economical our punching process is, let's talk about how the power (or tonnage) is produced for the actual punching process.
Power -- more commonly called tonnage in the metal fabrication industry -- is generated basically by two methods, pure high-pressure hydraulic force, leverage or a combination of the two. At Scotchman, we have one ironworker model that used strictly high pressure hydraulics and 12 other models that use a combination of the two forms. Both methods have unique characteristics.
High pressure
Has less moving parts.
Generally slower cycle times.
Combination: Pressure and Leverage
Produces tonnage at a much lower pressure.
Does not require motors with as high of horsepower, which in-turn consume less energy.
Longer machine and tooling life-span due to the lower working pressures.
More moving parts
With over half a century of experience, Scotchman is the oldest and largest manufacturer of hydraulic ironworkers in the USA. Scotchman ironworkers are shipped directly from our facility in Philip, S.D., full of hydraulic fluid and ready to use on arrival to your shop.
Click here for a demonstration of this process. No painstakingly slow drilling -- just simply step on an ironworker's foot pedal, and you're finished. These machines slice through metal like a hot knife through butter.
Check out Scotchman Ironworkers
Want to check out the ironworkers we have available? Click below to browse our inventory.