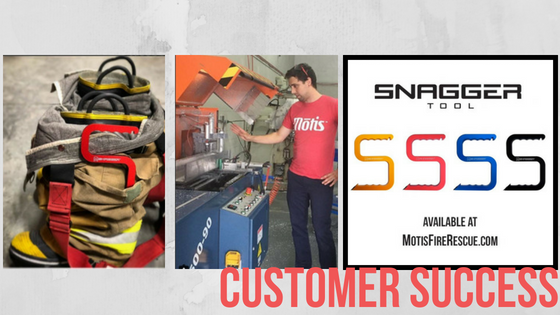 If there's anything we love to see at Scotchman, it's satisfied customers and the incredible things they are building with the help of our machines. What's even better is knowing that our sawing systems and ironworkers are allowing our customers to bring their work back in-house.
We're proud to share this story about Paul Terpstra and his company,
Motis Inc.
, and how our GAA-500-90 saw has been beneficial in his production process.
The Motis Fire Rescue Snagger
If you're a firefighter or a first responder you fully understand the importance of a few extra seconds. It can literally make or break your ability to save lives! Having the proper gear is always important, but if you're a fireman it is vital.
Paul Terpstra is one of our customers located in Canada who manufacturers a versatile firefighter tool with the help of a Scotchman sawing system.
"Our company [Motis] manufactures and sells the Snagger Tool, a tool used by firefighters across the globe," Terpstra says.
The innovative 'Snagger Tool' is a favorite among firefighters across the United States, Canada, and the world. This versatile tool is designed to fit in the pocket of bunker gear and helps fireman perform life saving tasks easier... tasks like breaking or cutting glass, carrying and securing hoses & equipment, and so much more. Check it out:
An Investment in New Equipment and Automation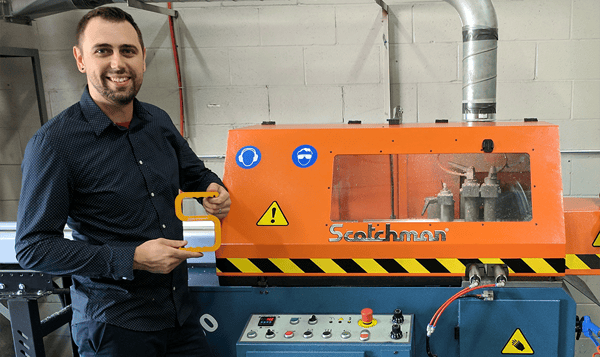 Now, as any successful business owner knows, when you have a quality product that provides direct results, demand is going to take off... and it has for Paul Terpstra and Motis. To keep up with orders, plus increase the quality of the Snagger, Motis decided that the investment of buying a new piece of equipment would be a good decision for the growing business. By purchasing the Scotchman GAA-500-90 sawing system Paul was able to reduce outsourcing and move production back in-house, enabling him to regain control of costs, production, and delivery of his products.
"I first saw the Scotchman cold saws at a manufacturing trade show, and right from the start I liked what I saw," Terpstra says. "Before our final purchase decision, I sent a piece of raw extrusion that we use to make the Snagger Tool to the Scotchman factory. They test cut them to size with the GAA-500 saw and sent me back the samples, as well as videos they recorded showing the saw in action and how to best mount our odd-shaped extrusion. We were impressed."
"By going fully automatic, it's allowed us to have one person manage three processes at once: sawing, milling, and vibratory deburring," Terpstra says. "This [saw] has allowed us to produce more parts at a lower cost."

The GAA 500-90

The Scotchman GAA 500-90 is a shuttle-feed automatic saw designed to have an operator load a piece of material or multiple pieces into the saw; then the saw automatically indexes the material to length and makes the cut. This is a continuous process until the desired number of pieces are achieved, or the saw runs out of material.
The standard saw will index lengths from ¼" up to 40" long, with a maximum cutting capacity of 6" in diameter, or up to 10" x 3" if rectangular.
The GAA 500-90 gives customers reliable accuracy when cutting high volumes of parts, and is used by anyone needing to cut aluminum stock or extrusions to a specific length, from window and door manufacturers to small part manufacturing, to Snagger making, and anything in-between. Aluminum is a popular material and is used in many manufacturing processes: it is lightweight, does not rust, and is very strong.
These non-ferrous up-cut saws can also be customized by adding a drill tap into the process, as well as a CNC programmable operation. Click here to view our complete line of automatic saws.
Our GAA up-cut saw line is manufactured in Spain, and we take pride in giving our customers 100% support of the products we sell, whether we manufacture it at our plant in South Dakota, USA or it is imported.

The Smart Factory Approach
Today's manufacturing world is quickly evolving with the help of technology. In the age of Industry 4.0 and the digital transformation of manufacturing, the manufacturing industry is the market where most Industrial IoT(IIoT-Industrial Internet of Things) projects are born and the market where most IIoT investments are made.
Paul Terpstra at Motis is using every opportunity he has to turn Motis into a Smart Factory. By using the Industrial Internet of Things (IIoT) he is preparing his business for the future.
To ensure everything is feeding and cutting properly, Motis actually mounted a GoPro camera on their Scotchman GAA-500. It sends a video feed over WiFi to a display monitor in their shop, as well as in the Motis office.
"It allows us to monitor exactly what is happening and it gives visitors a great view of the action," Terpstra says.
Paul has also updated other machines in his facility with additional technologies to report electronically to "command central" aka his office. This technology allows him to monitor the performance of his machines and use preventative maintenance techniques to keep his manufacturing processes on track and keep long-term costs down.
More Than Just Business
It is more than just manufacturing and business for Paul and Motis. It's also about the future of manufacturing and inspiring kids.

"At Motis, we love building things and we love sharing that passion," says Terpstra. That drive for paying it forward to the next generation of workers is what makes Scotchman and Motis the perfect pair.

Along with overseeing Motis, Terpstra runs Fusion Labworks, a non-profit that provides a safe space where youth can "build cool projects and have experience using power tools and equipment in a shop environment."
"We are creating opportunities and positive experiences for youth that can spark an interest in hands-on and skilled trade careers," he says. "We do this because we know the transforming power of these opportunities."
With the help of Scotchman's saw at both Motis and Fusion Labworks, Terpstra and his team are working to give transformative experiences to customers, employees, and our youth.
Keep up with Paul and follow his smart factory transformation on Instagram: @motisinc, @motisfirerescue, and @fusionlabworks.

Need a Cold Saw for Your Shop?
Ready for your own Scotchman? Read more blog posts about our cold saws or click the button to shop now.
Already have a Scotchman cold saw? Great! But don't forget to download a free cold saw safety poster for your shop.