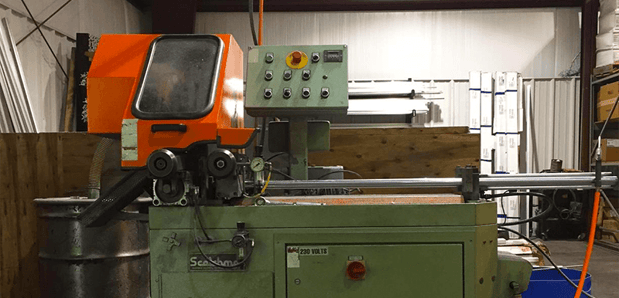 All across the country, Scotchman machines are helping companies punch holes in, bend, and cut metal for American-made products.
One of those companies is Talley Manufacturing, where president Gary Turner says about their hitch feed cold saw, "we use the hell out of it every day."
Superior Scope Rings
At Talley Manufacturing, Turner says, "We put a little pride and effort into our manufacturing - just like Scotchman."
Over in South Carolina, Talley is responsible for manufacturing scope rings and bases for the firearms industry. They pride themselves on rings that are unmatched in strength and durability.

"The only way that this thing is coming off your gun is to rip the screws off your gun," Turner says in one of their videos.
The Cutting Edge
Turner says that Talley Manufacturing has had their Scotchman cold saw for at least 15 years.
"It runs every day and it has been running daily since we bought it," he says.
All of their operators are trained on the Scotchman CPO 315 HFA cold saw, cutting aluminum for their scope rings in a variety of different shapes and sizes.
Now, running a saw every day for 15 years, you'd think it would've lost its touch, but that's not the case. The quality of a Scotchman machine lasts a lifetime.
Turner says the saw is still in excellent shape. Over the years, Talley has called up just a few times for service or because something has happened, but Turner said even those rare occasions have been handled quickly and painlessly.
"They solve my problems and they've responded to all my needs," he says. "They've went out of their way to make sure we were taken care of."
Made in America

Turner said outstanding customer service is a huge priority for Talley Manufacturing as well.
Both of our companies put a lot of emphasis on making sure the customer gets everything they need. That's just the American-made way of doing business.
So what does Turner think of being able to use an American-made cold saw to cut his American-made scope rings?
"It's a satisfying feeling because so much of the equipment that's out there is made overseas and to have a few product lines made here in America, to be a part of that on a larger scale in our country is really meaningful," Turner said.
We couldn't agree more.
Plus, knowing Talley scope rings are cut with our circular cold saw makes it easy to see how Scotchman products aid the goods American people buy and enjoy every day.
"Your cold saw cut parts are everywhere in the field with our product," says Turner, who has personally carried these rings to South America and Africa.
So whether it's hunting wild hogs in South Carolina or mountain lions right here in South Dakota, if your scope is mounted on your gun with a Talley system, you know you're supporting two American manufacturers.
Need an Amazing Cold Saw for Your Shop?
Ready for your own Scotchman? Read more blog posts about our cold saws or click the button to shop now.
Already have a Scotchman cold saw? Great! But don't forget to download a free cold saw safety poster for your shop.