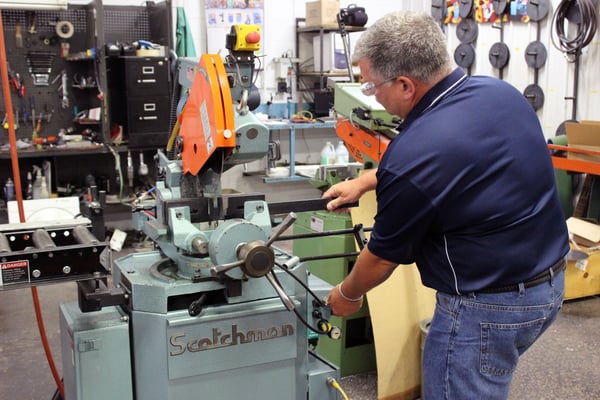 A cold saw and a band saw can both slice through metal with ease, but what exactly is the difference between the two?
Cutting Abilities
If you are shopping for a saw, you should carefully consider your options. Band saws specialize in versatility while cold saws excel in accuracy. Scotchman offers a wide variety of both types of saws, but as the largest cold saw manufacturer in the United States, cold saws are definitely our specialty.
A band saw can cut a wide variety of materials and volumes, but the cut quality is fair, leaving a burr on the edges of the surface. Band saw blades are also disposable and cannot be sharpened. Once you have used the life of the blade, you throw it away and replace it.

Whereas, a cold saw has a cleaner and more accurate cut than a bandsaw. A cold saw does have a smaller capacity but more than makes up for it with its cut speed!
Cold saws have been used more by metal fabricators in the past 10 years, due to increased accuracy and cut quality. Cold saw blades are reusable and can be sharpened up to 30 or 40 times before the blade becomes too small to cut through the maximum-diameter material.
Being able to sharpen and reuse the blade is a huge cost savings!
Milling Versus Cutting
When using a cold saw, you're milling with horsepower and torque versus grabbing a piece of metal and cutting, as you would with a band saw. To understand milling, you have to under­stand your speeds, feeds, and chip load.
"It sounds complicated, but it's really just a matter of selecting the right chip load. Two variables in the chip load selection are RPM (the surface feet that your blade is turning) and the tooth size. These two factors combined will get you into the world of a perfect chip load," said Mike Albrecht, national sales manager at Scotchman Industries.
"For cutting thin-walled material you need a fine-toothed blade to control the chip load better. On coarse material, such as solid bar for example, you need a coarser tooth so you can roll a bigger chip through the material."
Band Saw Cutting
Band saws don't require as much science or technique. In many cases, you can simply choose your blade and go for the cut you're after. However, you must still choose your blade carefully to ensure a good cut.
"The same rules from cold saw cutting apply to band saws," Albrecht explained. "If you don't have the proper teeth per inch, your cut quality will suffer. A tell-tale sign that you are using the wrong band saw blade is when the teeth are stripped from the blade, which is caused by an excessive chip load."
A quality blade guide system on a band saw will ensure good straight cuts. The carbide blade guides sandwich the blade during the cutting process, helping to prevent your blade from running crooked or veering away from the straight line cut that you are trying to perform.
Additional Cutting Factors
With cold saws and band saws, lubrication is key for efficiency and overall cutting quality and it helps keep the blade cool, making it last longer between sharpenings.
Add Efficiency and Decrease Set-up Time with Options
"Another important factor is feeding or measuring the material," said Albrecht. "Cutting the material is just one process; setting up your part length and accurately measuring it is another."
"In fact, you'll probably spend more time measuring and lining up your chalk line than you will actually spend making the cut. It's a good idea to employ a measuring system, which can be added to manual saws and fully-automated saws. Measuring systems decrease operator error and increase productivity - and who doesn't like that?"
Looking for a quality Scotchman band saw or cold saw for sale? Take a look at our inventory by clicking below!