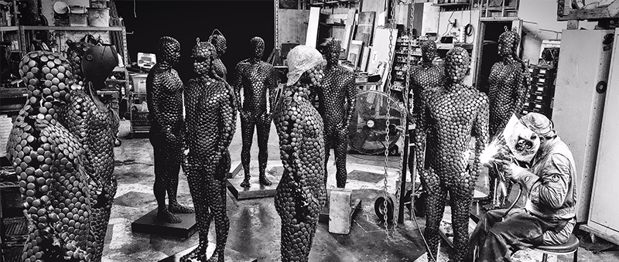 An artist in Mississippi has found an ingenious way to work Scotchman ironworkers into his craft.
Jason Kimes, a professional sculptor, said that he was able to get several drums of remnant punches from a local heavy metal manufacturing facility years ago - the same punches that drop into the slug bucket on your Scotchman ironworkers - and uses them to produce life-size
figurative sculptures.
You have to see this guy's work!
From Slug Bucket to Art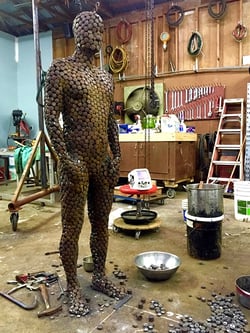 Kimes recently gave us the heads up on his creative use of the metal Scotchman ironworkers have punched out, and we're delighted by the innovation. He's been working with slugs from our machines since at least 2012.
He said those first drums he picked up each had 2,000 pounds of loose punches for him to work with.
The way he crafts those small slug bucket disks into life-sized silhouettes is breathtaking, and we are thrilled to see all that metal supporting his art.
Sculpted Statements
Kimes recently completed a work in New Orleans (which you can see being built in our header image.)
"ELEVEN" is a large sculpture memorial I just finished to honor the eleven men who died when the deepwater horizon rig exploded in 2010," Kimes told us. "It's eleven life-size figures that represent the men who didn't make it off in time."
Each of the eleven sculptures is comprised of about 2,000 slugs from heavy metal manufacturing products.
You can learn more about ELEVEN here. Or, see other examples of the unique sculptures Jason Kimes brought to life with some help from Scotchman ironworkers on the Mississippi artist's website.
This is an amazing use for the contents of a slug bucket, which are usually scrapped. We applaud Kimes' artistry, and commend his collaboration with the metal manufacturing industry.
Scotchman Ironworkers
We're excited to keep an eye on Kimes' work as it continues.
What amazing things are you building with your Scotchman machines? We love it when customers share their ingenuity with us. Email us at brooke@scotchman to tell us about what you've been working on!
Meanwhile, if you're in the heavy metal manufacturing game and need to make some punches yourself, check out our selection of Scotchman ironworkers - with the standard slug bucket for catching all that artistic off-fall.