Summer will be over before we know it, but there's plenty to look forward to this fall. At Scotchman, one of the things we're most excited for is IMTS in Chicago!
Do you still need to register for the 2018 International Manufacturing Technology Show? It's the second largest metal fabrication show in the country, and not something you'll want to miss (September 10-15, 2018).
Here's a preview of what machines you can expect to see when you visit Scotchman's booth at this year's conference.
What Machines Are We Bringing to IMTS 2018?
When we sit down to plan what we're going to feature at a conference like the International Manufacturing Technology Show (IMTS), we ask ourselves the question: "What would be most useful for you to see?"
This year, the answer we came up with is automation and lots of it! Automatic saws & measuring systems increase both machine efficiency and accuracy while saving the operator time and reducing human error. It's a win-win.
We are putting our cold saws front and center, but we'll still have our hydraulic ironworkers you know and love on the floor for demonstrations.
When you're putting together your IMTS MyShow Planner, don't forget to schedule a visit to our booth! We'll be at booth #N-236408 in the North Building, B Hall. You can count on Jerry and the gang to have a surprise or two for anyone who makes it over.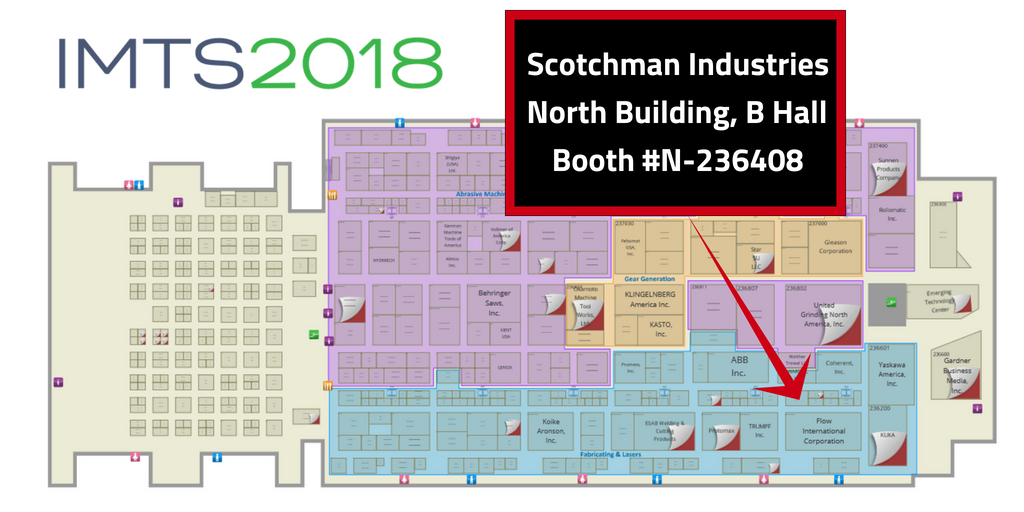 Cold Saws
Scotchman manufacturers and sells a complete line of circular cold saws from manual to fully automatic for both ferrous and non-ferrous materials.
1. CPO 315 RFA auto cold saw. Load your material in bundles or one at a time.

Scotchman's Roll Feed Automatic saw (RFA) is a fully automatic cold saw that provides uninterrupted cutting on tubes, solids, and extrusions and provides the highest quality cuts.
This machine comes with high quality touch screen controls making the saw easier to operate. Newly added features decrease cycle times and make this saw faster than ever before.
The RFA has the ability to store profile settings such as speeds and feeds, which make changing material sizes fast. This machine is ideal for high volume and long length applications which require very accurate and clean cuts. The Scotchman RFA is American made and available for ferrous or non-ferrous applications.
2. CPO 315 HFA CNC auto cold saw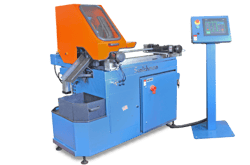 We've taken our Hitch Feed Automatic saw to a new level and are excited to showcase it at this year's show.
This Scotchman CPO 315 HFA-CNC saw is fully programmable so every cut length is fast and accurate. It uses a 30" linear actuator, driven by a servo motor. With its 315mm blade, it allows you to cut up to 3-1/2" diameter tubes or pipe and up to 1-3/4" solid material, while maintaining a length tolerance of ± .006" per index.
3. CPO 350 PKPD w-AFS semi-auto cold saw
Depending on the model, Scotchman's semi-automatic cold saws are available to cut ferrous or non-ferrous materials.
Equipped with a power clamp & power down feed, variable speed motor, and computerized material feed measuring device, the CPO 350 will give you a calculated, mill-quality cut every time.
An IMTS must-see for the aluminum extrusion market, this Upcut Circular Cold Saw was designed specifically for cutting non-ferrous material. Check out a product video demo here.
Featuring a 24" (600 mm), 132 tooth carbide blade that is capable of producing round cuts up to 9" in diameter and rectangular cuts up to 15" x 6", the SUP-600 NF offers an increased cutting capacity not found in traditional pivot down saws.
This upcut saw can be coupled with our AngleMaster measuring system, creating a semi-automatic programmable sawing system which automatically rotates to any cut angle, pushes material into the saw then automatically rotates to the next desired angle. Plus, you can store cut lists on its 21" touch screen control. Stop by booth #236408 to visit about adding this option with a Scotchman Rep or give us a call at 1-800-843-8844.
5. GAA 500-90 CNC DT-20 auto Upcut cold saw with Drill Tap
We're proud to feature a drill tap option for our GAA-500 90, Automatic Upcut Circular Cold Saw. The latest addition to our non-ferrous saw line now has more possibilities than ever before. (See it in action!)
The GAA-500 90 is a large capacity upcut automatic saw for cutting non-ferrous materials at 90° up to 6" square and round. The saw uses a shuttle feed design with an adjustable vertical and horizontal clamping system which fits almost any profile.
By adding the drill/tap option to the GAA saw, you now have a true Scotchman production saw. Drill and tap holes up to 20mm, with a single spindle drill, or by adding a multi-spindle drill, add multiple holes at one time.
Add a CNC option, along with the Drill Tap option, and you can position a hole or set of holes on a single axis, then cut to length.
Ironworkers
In addition to our world-class cold saws,we will be demonstrating the versatility, accuracy and dependability of our classic USA made ironworkers. We're bringing two different models along with us to the 2018 International Manufacturing Technology Show in Chicago this September.
6. 50-ton 3-station turret Ironworker: 5014 ET
The latest and greatest 5014-ET has taken the 5014-TM, 3-station turret model, to a whole new level. The new 50-ton ironworker now comes standard with a new, improved electric stroke control which makes this machine more precise than ever.
Upgrading this new 5014-ET ironworker to a fully electric stroke control increases its accuracy and reduces the mechanical linkage which extends the life of the machine. Bending parts on a Scotchman 50-ton is now as accurate as any other ironworker in the industry; and is backed by Scotchman's Best-in- the- Business warranty.
7. DO95 Ironworker with RG digital stop system
This dual operator machine has a 95-ton capacity punch and a 9" throat depth, which can punch a 1-3/16" hole in 1" material. The DO 95 complements Scotchman's existing dual operator machine line, which consists of dual operator ironworkers with punch capacity ranging from 70 to 150 ton.
Scotchman is an American manufacturer and builds a complete line of hydraulic ironworkers ranging from 45-150 tons. Check out the complete line here.
Visit Scotchman at IMTS 2018
Don't forget to stop by our booth in Chicago. Use the map pictured above to find us at the conference. There's still time to register » Use Promo Code: 30229scotch
If you can't make it to IMTS this year, but want to see one of these machines in action, we'd be happy to arrange that for you! Let us know which ironworker or cold saw you've got your eye on, and we'll plan an on-site demo just for you.