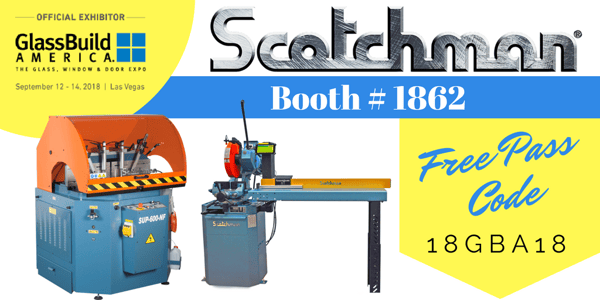 Scotchman Industries will be bringing the best circular cold sawing systems for the aluminum extrusion market to Vegas this fall for GlassBuild America. If aluminum is not your thing we have a full line of ferrous and non-ferrous saws, manual to fully automatic.
Read below to see what the event is all about, what we're bringing to Sin City, and how you can get a free pass.
GlassBuild America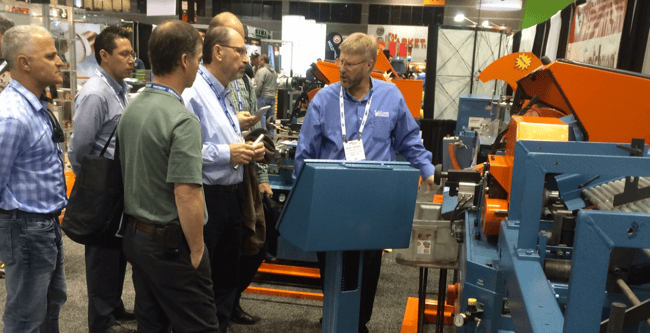 Now in its 16th year, GlassBuild America is the largest annual gathering place for the entire glass, window and door industries in North America.
We'll be there at the Las Vegas Convention Center in Las Vegas, from September 12-14, 2018, in booth #1862 and hopefully you can join us!
450 exhibitors are expected to attend this conference, spanning manufacturing, distributing, metal fabricating, retailing and dealing capacities for flat glass, residential windows and doors. See the 2018 exhibitors list (or skip directly to Scotchman's listing).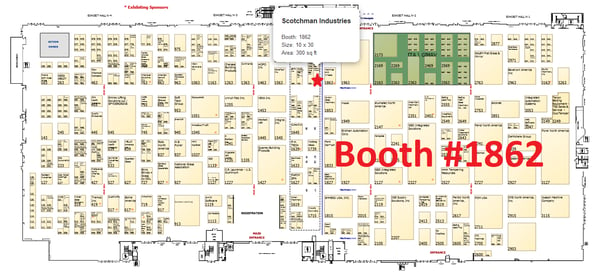 GlassBuild America features educational forums and Express Learning sessions, abundant networking opportunities, and a trade show floor full of the latest and most innovative glass and fenestration industries' equipment, products, technologies and services including our non-ferrous cold saws.
Scotchman Cold Saws Heading to Las Vegas

GlassBuild America boasts the most comprehensive display of domestic and international machinery for the industry - and we'd put our American-made cold saws up against any of it.
Most relevant to our friends in the glass, window, and door industries; we'll be demonstrating our automatic non-ferrous cold saws, designed to deliver fast & clean cuts.

Scotchman saws provide burr-free cuts, easy mitering, safe operation without sparks or heat, and a industry trusted warranty.

Plus, our Non-Ferrous Cold Saw Series is available in all stages of automation, from manual saws to fully automatic. Combine that with a design that lasts well over 25 years, and you'll understand what Scotchman means when we say "high quality."

At GlassBuild America, we'll be demonstrating:
Our semi-automatic, non-ferrous upcut saw is programmable and will feed material, cut multiple angles at different part lengths, and more with the push of a button.
This Upcut Circular Cold Saw is designed specifically for cutting non-ferrous material and features a 24" (600 mm), 132 tooth carbide blade which is capable of producing round cuts up to 9" in diameter and rectangular cuts up to 15" x 6", the SUP-600 NF offers an increased cutting capacity not found in traditional pivot down saws.
Coupling this saw with the AngleMaster measuring system creates a semi-automatic programmable saw system that automatically rotates to any cut angle, pushes material into the saw & automatically rotates to the next desired angle.
This machine gives you a completely finished part. Plus, you can store cut lists on its 21" touch screen control, making this a must-see for the aluminum extrusion market! The SUP-600 NF is available in 230 volt and 460 volt configurations AND a 2 year warranty.

Learn More About the SUP 600 NF w/ AngleMaster »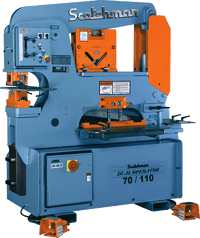 This American-made ironworker has five built-in stations & provides the versatility and dependability which Scotchman is known for. The DO 70 has a 70-ton capacity punch station with a 9″ throat depth, and can punch a 1-1/8″ hole in 3/4″ material.
This dual operator machine has a hydraulic system designed with two pumps to ensure full hydraulic pressure and speed to both operations, complete with two valves, two stroke controls, and two remote foot pedals. Scotchman's unique component tool table design gives this ironworker the ability to accept optional equipment such as press brakes, rod shear, tube shears, and picket tools, as well as custom tooling.
Learn More About the DO 70 Ironworker »
In addition with what we'll be demonstrating in Vegas, Scotchman offers a wide selection of high quality American-made machines at an affordable price, all backed by a Best-in-the-Business Year Warranty!
Get Your FREE Expo Pass
Attend GlassBuild for FREE using code 18GBA18 in the "Guest Pass Code" field when you register. GlassBuild America is open to all industry trade professionals, and we hope to see you there.
In the meantime, learn more about Scotchman's cold saws: