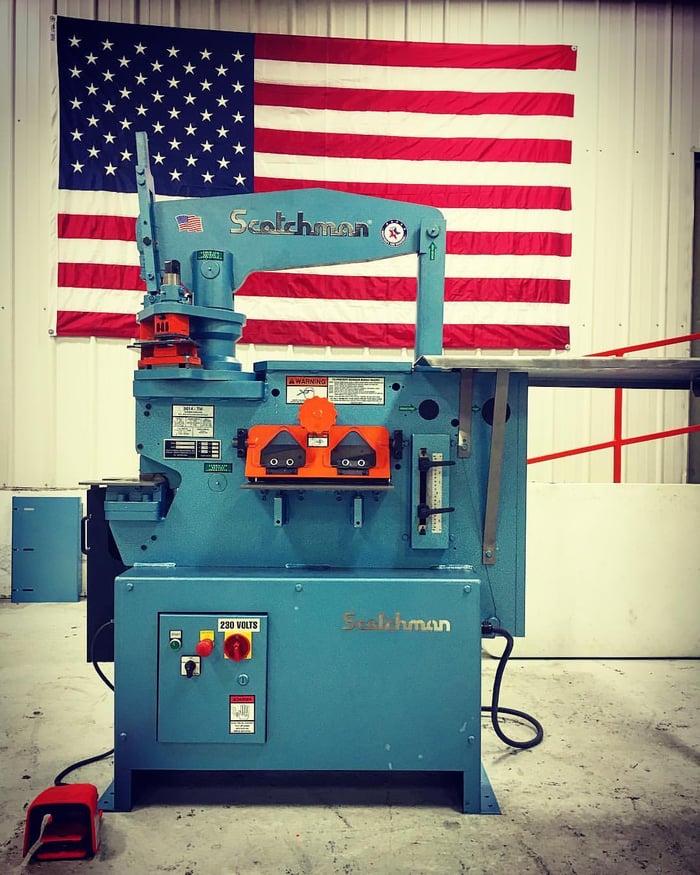 This year marks a half century of serving your metal fabrication needs and we are honoring our past with America's future.
We are incredibly proud to cross another milestone in the history of the company and honored that we have been able to serve the manufacturing and metal fabricating industry in America and abroad since 1967.
We owe our success to our customers who trust Scotchman as their metal fabricating solution for the last 50 years. To show our appreciation, we're paying it forward by doing a big giveaway.
50 Years of American Manufacturing
It's our Ironworkers' 50th Birthday and to celebrate this milestone, we are giving away a 50-ton ironworker & a $1,000 tooling credit!

Together, with our valued customers, we want to inspire the next generation of metal fabricators by gifting a NEW 50514-EC ironworker to a school shop class.

The winner of our 50-ton giveaway not only gets to gift this new machine to the American school of THEIR CHOICE - they will also receive a $1,000 tooling credit for their personal use.
We are a HUGE supporter of shop class. This is why our giveaway puts a powerful emphasis on schools.
Here's how to enter:
The winner will be drawn at our open house on September 27th, 2017.
Cultivating the Next 50 Years
Scotchman is committed to offering you the same high-quality machinery in the next 50 years that we've been providing since the 60s. Not only that - we want to bring much-deserved talent and attention to the manufacturing industry in America.
That's why our giveaway puts a powerful emphasis on schools. We want to see the younger generation grow up and embrace a fulfilling and productive career in the manufacturing industry and metal fabrication field. We chose this pay-it-forward giveaway to keep our focus on the next generation, but we need your help. We want YOU to choose the school who will receive it.
Just catch up on our Millennials in Manufacturing blog series to see what we mean!
Is there a special school you'd like to gift a brand new, state-of-the-art Scotchman ironworker? Making this equipment available to students can make an incredible difference in a program's shop classes.
Even if you don't end up winning in October, watch your mail for a small gift from us as a thank you for entering our sweepstakes. We hope you know we always appreciate your business. Without you, we wouldn't be here and we cannot thank you enough.
Learn More About Our History
We'll be drawing on our 50 years of success in heavy metal manufacturing - and our plans for the next 50 - throughout 2017. To keep up, subscribe to our blog.
You can also update your information so that you get the most relevant mailings possible from our South Dakota headquarters!
But do be sure to take your shot at a new ironworker for your school - and $1,000 for your own use!