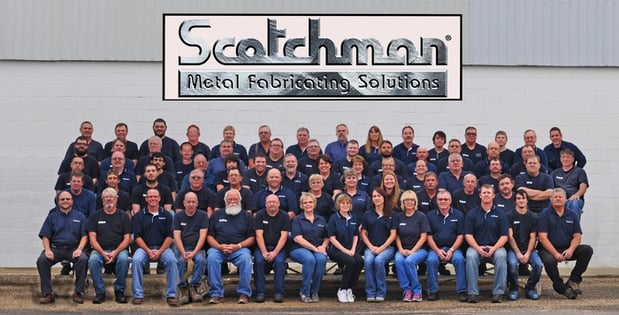 Here at Scotchman Industries, we pride ourselves in manufacturing quality, dependable, and American Ironworkers.

Manufacturing Day is a celebration of modern manufacturing meant to inspire the next generation of manufacturers. Although Manufacturing Day officially occurs on the first Friday in October—this year was October 2, 2015—any day can be manufacturing day.
Economic growth depends on manufacturing growth. Manufacturing continues to be a major economic driver in the United States. We invent things and we make things that are sold all over the world. The future of our country's manufacturing relies on a skilled, talented workforce.
Manufacturing In the 21st Century
In fact, U.S. manufacturers are responsible for 47 percent of total U.S. exports. Every $1.00 in manufactured goods generates an additional $1.32 worth of additional economic activity — higher than any other economic sector.
Taken alone, manufacturing in the United States is the 8th largest economy in the world. One key area of concern for the manufacturing industry today is the skilled labor shortage we face. Finding and hiring a new generation of workers is necessary to ensure the ongoing prosperity of the industry as a whole.
There are many ways to share the importance of manufacturing with those who may not know anything about it. You might just be the inspiration that sets a young person on the path to a future career in the manufacturing industry.
October is Manufacturing Month, and your metal fabrication professionals at Scotchman are celebrating. Manufacturing Month will amplify the voice of individual manufacturers everywhere with common concerns and challenges.
You can learn more about Manufacturing Month here.
How to Participate in Manufacturing Month
Are you involved with one of the hundreds of manufacturing companies across the country? Here are some ideas for how you can celebrate the great work you do.
Organize a cookout or ice cream social! Invite your hard working staff to bring their families and friends to see where they work and learn what they do.
Does someone on your team know a leader with a local Boy Scout, Girl Scout, or Indian Princess group? Invite them to visit your plant for a field trip!
Contact your local school and offer to host a field trip or go to their classroom and do a presentation about manufacturing careers. Check out the free Rock MFGDAY Kit available at mfgday.com/resources and use the available video and PowerPoint resources.
Does your company belong to a local chamber of commerce, regional manufacturing association, or economic development organization? Be a catalyst to bring a public showing of American Made Movie® to your town and educate members of the community.
Contact your local community or technical college's manufacturing technology department. Invite the students to come job shadow you for a day and teach them how to prepare for work in the manufacturing industry.
As you can tell, there are many ways to share the importance of manufacturing with your community. Manufacturing month empowers us to come together and address areas of concern and how to help communities and future generations thrive.
Need help honoring manufacturing this month? Let us know! We can come to your shop for a free demonstration of our cold saws and ironworkers.