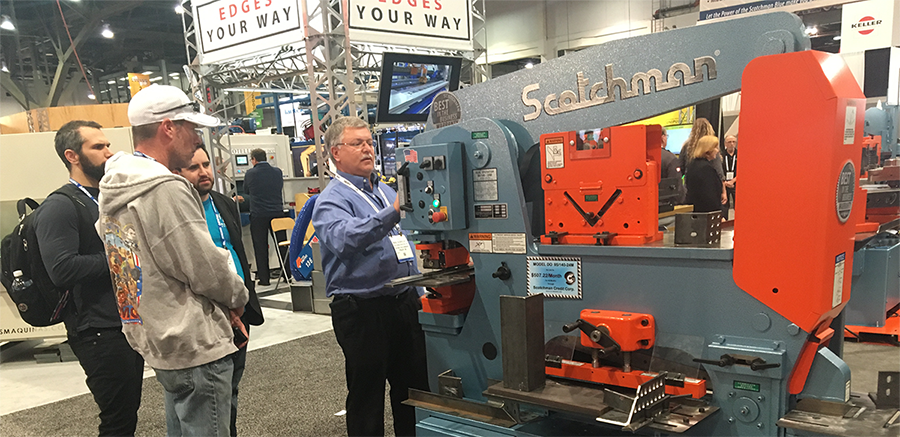 Scotchman is revving up to return to the biggest metal fabrication industry event in North America, this year in Chicago, Illinois.
At FABTECH 2017, we will be demonstrating several of our metal fab solutions, as well as featuring automating solutions to propel your business further.
Too Much Scotchman for One Booth
2017 has already been a huge year for Scotchman Industries as we celebrate 50 years of the Scotchman ironworker.
Meanwhile, since excitement about Scotchman has grown at past shows, we're happy to announce Scotchman will have TWO booths at FABTECH 2017!
Join us in Chicago, November 6-9, and stop by our booths: A4217 and A4317.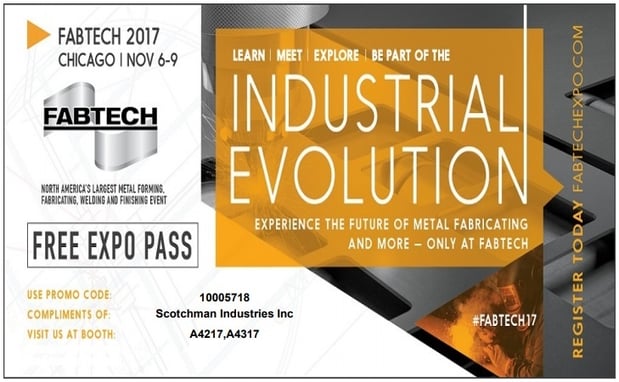 Scotchman's FABTECH 2017 Machines
Learn how each piece of Scotchman equipment can improve your production and meet your fabricating needs. Stop by Scotchman Industries booths, #A4217 and #A4317, at FABTECH 2017 for your personalized demonstration.
We love to demonstrate our quality machinery which provides fabricating solutions. Don't forget to ask about our show special!
Cold Saws
Scotchman Industries is the largest circular cold saw manufacturer in America! We are thrilled to be demonstrating even more automatic sawing solutions than ever. You won't want to miss our newest non-ferrous upcut automatic saw November at FABTECH 2017.
The SUP-600 non-ferrous saw is fully automatic and ready to increase your bottom line.
Go LEAN with our multi-function production saw, the GAA-500-90 DT20 CNC. See this machine cut, drill, & tap at #FABTECH17. The GAA-500 90 is a large capacity upcut automatic saw for cutting non-ferrous materials at 90°.
This saw uses a shuttle feed design and has an adjustable vertical and horizontal clamp system allowing it to fit almost any profile up to 6". It is available with a Drill Tap (DT20) option & a CNC option giving it the ability to drill and tap holes up to 20mm, with a single spindle drill, or by adding a multi-spindle drill add multiple holes at one time.
Make thousands of clips fast with Scotchman's GAA-500-90 DT20 CNC saw, a true production saw!
Our AngleMaster measuring system coupled with our SUP 600 NF upcut saw creates a semi-automatic programmable sawing system. It will automatically rotate to any cut angle, push material into the saw, and automatically rotate to the next desired angle, giving you a completely finished part. Store your cut lists on its 17" touch screen control. A MUST SEE for the aluminum extrusion market!
Ironworkers
Scotchman manufactures a full line of ironworkers ranging from 45 to 150 tons of pressure and are 100% American-made and built at our South Dakota factory. Scotchman prides itself in being an American manufacturer & importer of excellent quality products.
As always, we'll be showcasing our versatile and world renowned American Made ironworkers. Our 50-ton ironworkers models, the 50514-EC and our 5014ET, have five separate work stations and can punch a 13/16″ hole in a 3/4″ plate. Standard Features include: angle shear, flat bar shear, rectangle notcher, & are backed by their Best-in-the-Business, 3-Year Warranty.
Take your ironworker to the next level and trust your material is accurately positioned every time when you couple it with one of our state-of-the-art automated material handling systems. Together with RazorGage technology, we have turned the Scotchman ironworker into a production machine. Investing in this quality component will eliminate waste, reduce scrap, and increase your efficiency at the punch station.
Complete List of Scotchman Machines Coming to #FABTECH17
Scotchman offers a full line of sawing solutions for ferrous & non-ferrous material, from manual to fully automatic and pivot to upcut designs.
Here is our list of Ironworker models going to #FABTECH17:
If you aren't already signed up, get yourself registered for this metal fabrication event of the year. FABTECH is a must-see for anyone serious about working with metal.
Not going to make it to Chicago for FABTECH 2017? We're happy to offer you an on-site demo of the product you're considering or check us out on YouTube.