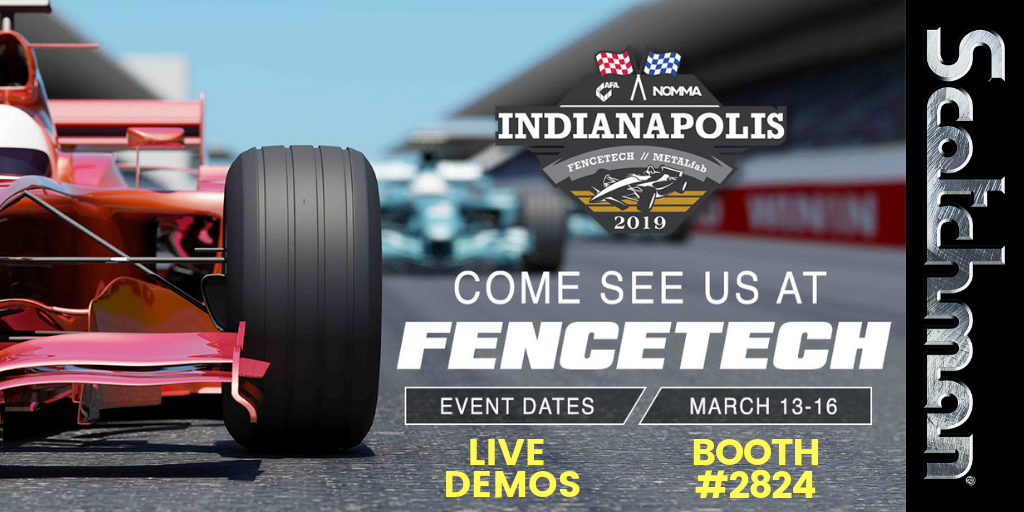 Scotchman Industries is gearing up to hit the road to exhibit at FENCETECH in Indianapolis, IN. If you are in the fence, deck, railing, door, or ornamental iron industry...attending this show is a must!
The American Fence Association's (AFA) FENCETECH

FENCETECH 2019 will be turbo-charged by co-locating with two other influential industry shows: National Ornamental and Miscellaneous Metals Association's METALfab and International Door Association's IDAExpo. Harness the power of 3 shows in one located in Indianapolis, IN.

We'll be in booth #2824 at the Indianapolis Convention Center in Indiana, on March 15-16, 2019. We have a FREE expo pass for you! Hope you can join us.
What to expect:
- 7,000+ attendance
- Triple the exhibit floor space with more than 300 booths
- Live product demonstrations

See the 2018 exhibitors list here.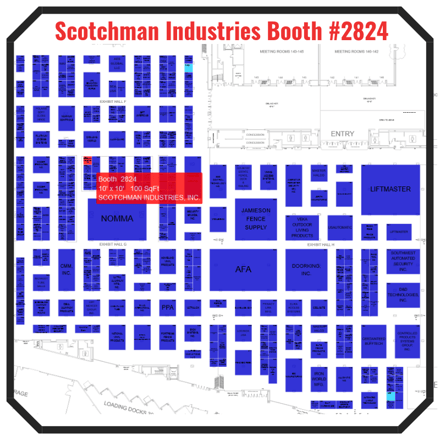 Scotchman Offers LIVE Demos!

This year's FENCETECH will be jam packed with networking, education sessions, professional development opportunities, and a trade show floor full of the latest in fence, door, and ornamental metals!

At FENCETECH, we'll be demonstrating:

The 5014-ET from Scotchman Industries is the world's first and only 50-ton hydraulic ironworker machine with a 3-station turret punch. Our innovative revolving turret accepts up to three different punch sizes which can be rotated with ease in seconds! This feature, in-addtion with our unique component tool table design, reduces set-up times and increases productivity making the Scotchman 5014-ET the most versatile and efficient ironworker on the market. This hydraulic ironworker features 50 tons of pressure and has the ability to punch a 13/16″ hole in a 3/4″ plate. Plus, it comes standard with an angle shear, 14" flat bar shear, and rectangle notcher. The 5014-ET ironworker is proudly made in the USA and is backed by Scotchman's Best in the Business 3-year warranty.
Read More About the 5014-ET Ironworker »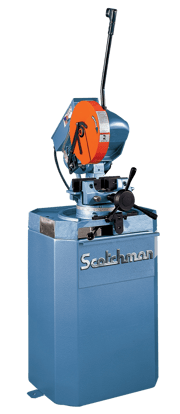 Want to know which factors you should consider before buying an ironworker? Read this.


Scotchman Industries' powerful American-made CPO 350 Circular Cold Saw is the perfect machine for any fabrication shop. This dependable saw features a double clamping and self-centering vise for maximum hold and provides burr-free, high quality, volume parts. It has 180 degree mitering ability and a miter-locking device which automatically stops at 45 degrees left, 90 degrees straight, and 45 degrees right, giving it the ability to slot and notch. Additional machine features include a chip drawer, a double reduction gearbox, a two-speed motor which utilizes up to a 350mm diameter blade giving it a 4-7/8" OD round capacity. This machine is built with dependability and versatility in mind, with the quality you expect from a Scotchman. Always backed by their outstanding 3-Year Warranty!

Read More About the CPO 350 Cold Saw »
In addition with what we'll be demonstrating in Indianapolis, Scotchman offers a wide selection of high quality American-made machines at an affordable price. Check out all our products at www.scotchman.com

Get Your FREE Expo Pass
Attend FENCETECH Exhibits for FREE using code 2824 in the "Invitation Code" field when you register. FENCETECH is open to all industry trade professionals, and we hope to see you there.