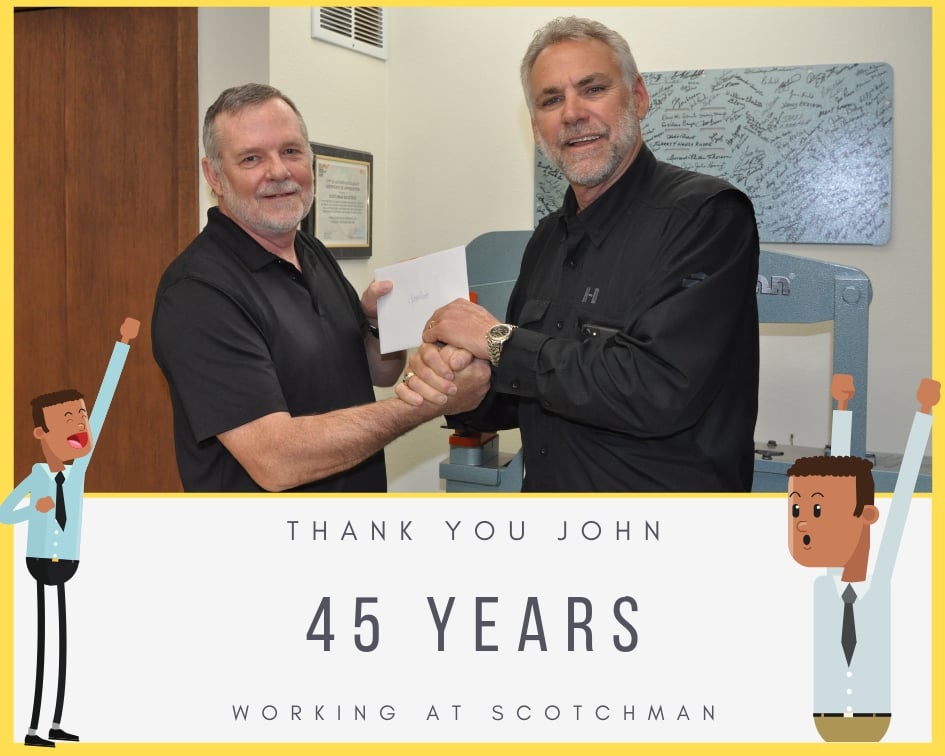 No one succeeds in business (or in life, for that matter) without the support from others. All too often they go unrecognized, but their influence remains nonetheless vital. Loyal and dedicated employees are the foundation to any successful company.
Today our Scotchman family consists of around 80 dedicated people who work hard every day, but one in particular needs some recognition. I know the recognition of this employee's milestone is a bit late, but never forgotten! ...And in all honesty, we DID have celebratory cookies and a timely feature article on the front page of our local newspaper ...But there is more to the story of John F. Hart and his 45 years at Scotchman… it just took me a while to find the right words.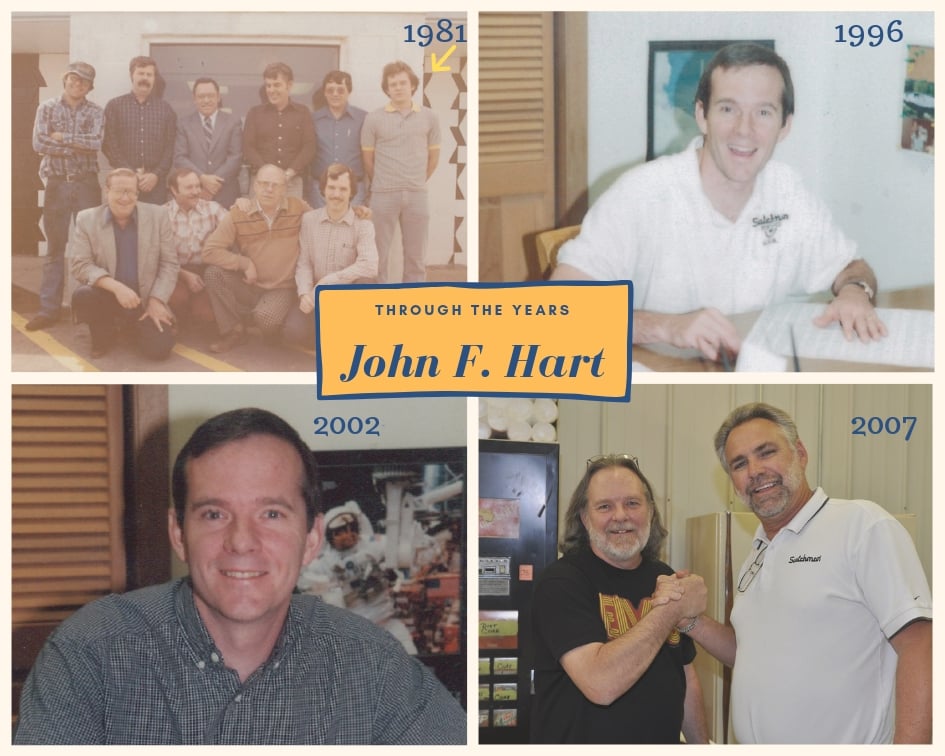 On May 28th John Hart celebrated a 45 year work anniversary with us at Scotchman!
45 years is a heck of a long time and we've been so lucky to have him in our tribe for all these years. Over the years he has cracked thousands of jokes, overcome many obstacles, developed efficient departments, built relationships, and achieved accomplishments he should be very proud of -- I know we are!
John's journey with us started back in 1972 while he was still in high school. He worked part-time after school and on Saturdays in the parts room. He joined our team full-time in 1974 after graduating from high school & it's been a pleasure ever since.
We got a good one with John, and are thankful his original life plans of attending Brown Institution for Communications changed and he stuck around. He is quite smart and an organizer by nature, and by 1977 he was very involved in the development of Scotchman's first inventory control system.
Back in those days one couldn't just run out to Best Buy and purchase a software program like "QuickBooks"... Departments in businesses were pioneers and had to build and develop their own systems and ways of doing things.
In 1978, twenty-two-year-old John formally became Scotchman's Purchasing Agent – a position he has held ever since. Once in this new role, John was tasked with building and developing a system to ensure we always had the materials and parts to keep us working and building our ironworkers. There is nothing worse than having to stop production because you're out of material or components. John got to work researching different processes and attended seminars to help guide him through this system development process, and in the end established an efficient purchasing process and shaped it into a functioning and effective system that continues to work well for Scotchman Industries to date. The system he developed for us back then is very similar to ones you can buy off the shelf today… and that's Pretty awesome if you ask us!
There is a lot more to John's role as Scotchman's purchasing agent than just establishing a process to buy supplies. That process is only the groundwork for the overall strategic goals of purchasing. John is involved in assessing our long-term needs for goods, services and materials, and sets budgets based on our company's current needs and projected future growth. Cost efficiency is a key objective of any purchasing agent and they must ensure suppliers are delivering the best value. John is very good at what he does and we thank him for it, but we are not the only ones who noticed.
In 1985, at 29 years of age, John F. Hart received a National Value Analysis Award from Purchasing magazine and was recognized for the key role he played as our purchasing professional in finding innovative and cost saving solutions which greatly improved the value analysis between us, the manufacturer, and our suppliers. John's creative problem-solving techniques significantly enhanced the performance of our products while considerably reduced our costs.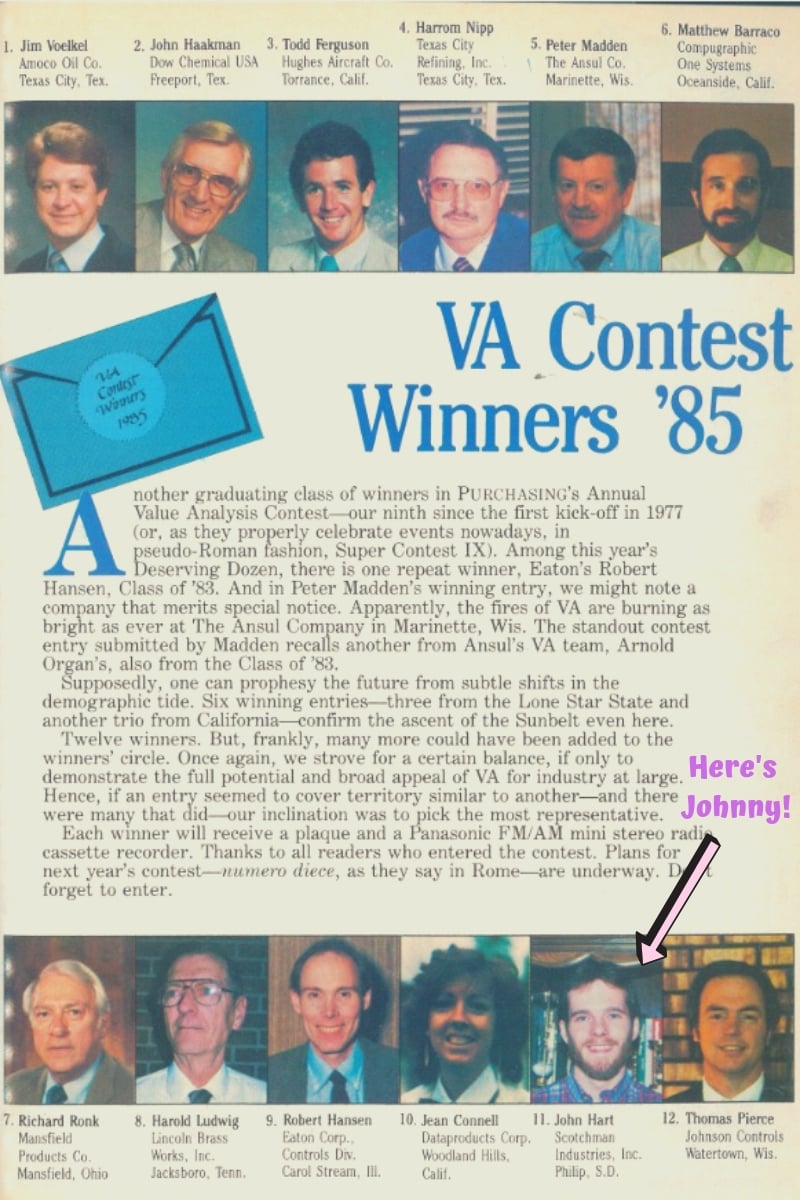 Over the years, John has taken that philosophy to heart and built very strong, loyal and long-lasting relationships with Scotchman's suppliers; an essential part of creating good health and growth for any business. Currently, John handles Scotchman's purchases, which exceed $10 million in product annually.
Jerry Kroetch, President of Scotchman says "John is very dedicated to Scotchman and we appreciate him and all he has done for this company. The long-lasting and loyal relationships he's established with many of our suppliers have helped shape this company into what it is today. John has a strong work ethic, vast and detailed knowledge of all our products, and has done an impeccable job in his role here at Scotchman. We are lucky to have him"
John, You have been such a significant part of our team and we couldn't imagine our workplace without you. Thank you!