Well, it's official – John Heltzel retired and left us after 40 years of employment at Scotchman. It is different around here now without John sitting at his desk... a little bit lonely even. Thursday afternoon we shut off the phones and celebrated John, his 40 years of service here, and his retirement, but yesterday it was real because his chair sat vacant. John has been a friendly face and an extremely knowledgable & important asset to our customer service department for over 35 years -- He will definitely be missed around here!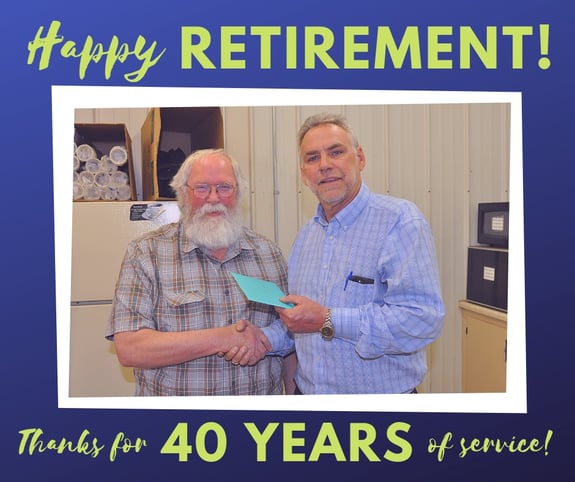 When John Heltzel joined Scotchman… disco was king, polyester was the material of choice, post-it notes were a new invention, and you could buy a NEW Buick Station Wagon for only $4,370!
The year was 1974, Scotchman was in our 7th year of manufacturing the ironworker when John began his career with us. He's been with us since almost the beginning! John started out as a welder, assembling our original Model 314 ironworker. He did that for 3 years, but then left & moved to Houston in '77 for the next two years.
John rejoined Scotchman on his 27th birthday, July 18, 1979, and returned to his former position. After a few short years he was promoted to Foreman of the Welding, Assembly and Paint departments.
In the late 1980's John moved again – this time moving from the shop to the office, landing in our Customer Service Department. Around this same time, he began his work with Scotchman's product liability cases. John's extremely calm demeanor and incredible product knowledge were perfect for testifying in product liability court cases when they occurred. He has to be one of the most even-tempered guys on the planet!
Thru the years, John's duties evolved to include:
writing product manuals
negotiating our GSA contracts
addressing safety concerns & setting up safety programs
and plenty of little things we'll discover along the way because not here to do them.
John continues to serve on two (2) American National Standards Institute (ANSI) Committees.
1) The ANSI B-10 Committee for developing saw safety standards.
2) The ANSI B-11.5 Committee for Ironworker Safety Standards.
Over the last 35 years, John has built a reputation throughout our Sales network as the 'Man-With-Answers'. He's the go-to guy for answers when it comes to hydraulic or electrical issues and knows every detail about our products (OLD and new).
We've been asked numerous times by our reps how we're ever going to fill John's shoes… It will be a challenge, but there's no doubt in our minds that the other guys in customer service will pick up the mantle and carry on where he left off.
John has been a valued member of Scotchman and a great role model for everyone on our customer service team – especially when it comes to staying calm under fire. …Except for that one time when a dealer from California really got under his skin -- John may or may not have said a few choice words to that particular dealer... sorry, but we're keeping those details to ourselves. We did however, learn that everyone has a breaking point -- even our unflappable John.
Dear John, Scotchman is a better company because of your efforts & contributions. We want to thank you for your past 40 years here and for taking such great care of our customers over the years. The best is yet to come and we hope that sentiment holds true for you personally, and for this company that bears your influence. We will miss not only your vast product knowledge, but also your friendly face, pleasant personality, and one-liners. It has been a pleasure to know you and to work with you. Congratulations on a wonderful career, and best wishes for your next chapter -- retirement!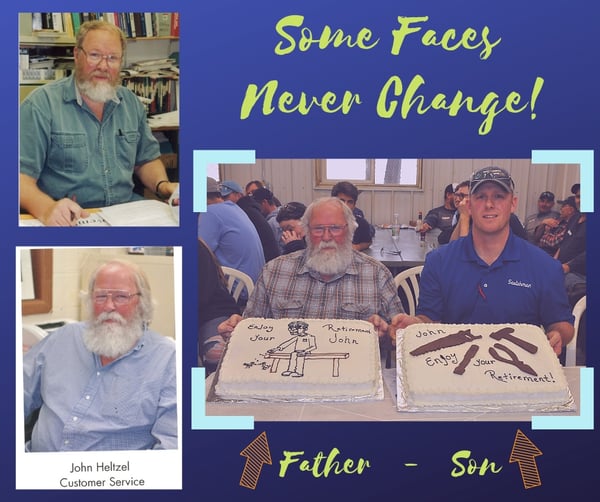 John Heltzel is the first of our longstanding and valuable customer service guys to retire. It IS a bit sad to see our friend, John, leave us for this next chapter in his life's journey, but thankfully we do still have many other product experts on staff as well as 7 other extremely knowledgable customer service guys on our team... like Alvin with over 45 years knowledge & answers and Richard with over 35 years under his belt! Don't worry, we told them they are not allowed to retire. 😉
We are truly blessed as a company to employ some of the BEST people to get the job done and who always put our customers first!
We are here for you and will continue to be, so let us know if you need anything.