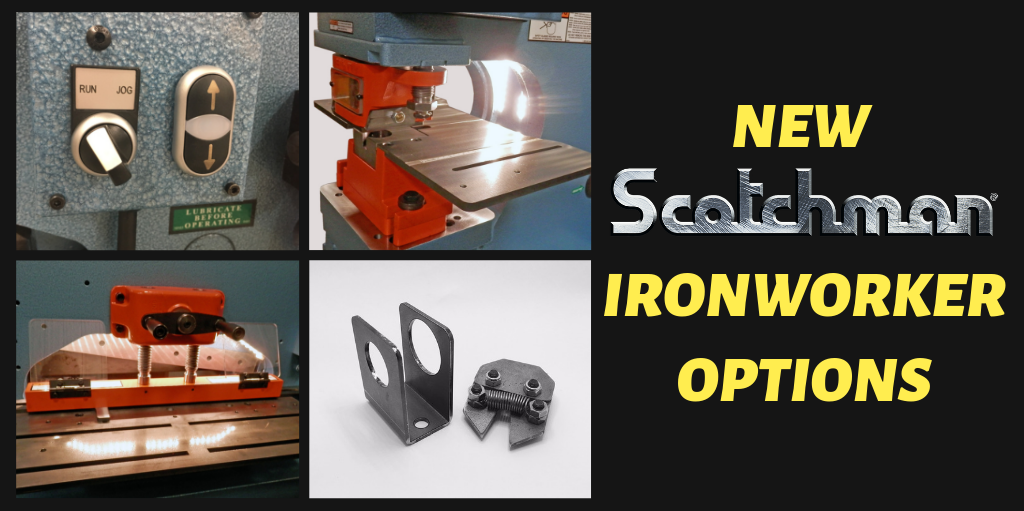 Our team at Scotchman Industries is constantly researching and developing new ways to make our hydraulic ironworkers more efficient and user friendly. Just released, 3 new options now available for current ironworker models.
NEW! LED Work Lights for
Scotchman Ironworkers


Light up your Scotchman ironworker with our NEW LED work lights! These low profile LED work lights are available as an option on all current models of hydraulic Ironworkers.

PF45: Located on the Punch Station
50-ET: Located on the Punch & Shear Stations
50-EC: Located on the Punch, Shear, Notcher Stations
6509,9012,12012, All Dual Operator models & FI85: Located on the Punch and Shear Stations
ShearMaster: Located on the Shear Station

*All work lights are currently factory installed, but our engineers are working on a retro-fit kit so this option can be added to existing machines in the field. Contact us to see if a retro-fit kit is available for the Scotchman in your shop.
info@scotchman.com or 800-843-8844
Jog Motor Control Now Available On 50-ton Ironworker


The jog control feature is now available as an option on both of Scotchman's 50-ton ironworkers.



Why should you consider adding a jog control option?
- Adds precision when setting the stroke control.
- Helpful to align & position tools accurately.
- Useful when doing machine maintenance.


NEW! Snap Ring Removal Tool


Scotchman's team of engineers have created the Snap Ring Removal Tool to make that tedious task quick & easy!
This tool is sold separately or included with a purchase of a #20 Punch and Die Package!


In the market for an ironworker? Read which factors you should consider before buying.