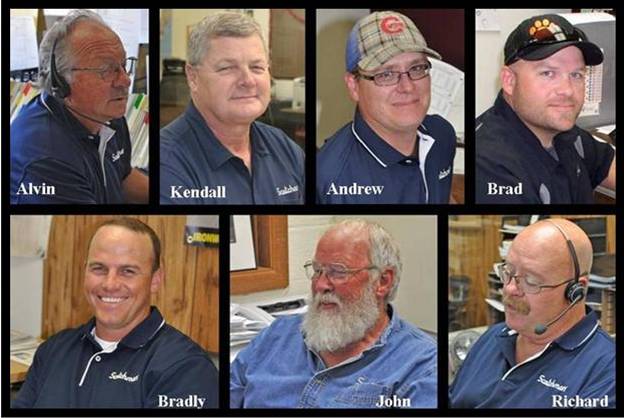 When you need help with your metal fabrication tools, we don't want you scratching your head searching the web for answers or wasting valuable time on hold. The Scotchman customer service team is a group of real people standing by to get you answers.
"The greatest technology in the world hasn't replaced the ultimate relationship building tool between a customer and a business; the human touch," said customer service expert Shep Hyken.
In Philip, we agree.
That's why Scotchman customer service is handled by experts right here in South Dakota. With us, you can count on going over your questions with real live people who know the metal fabrication tools.
Putting the Customer First
The customer should always be the most important person in any business model. It is hard to fathom how a company could succeed without offering value to the people it serves.
We depend on our customers to make a living. When they succeed, we succeed. And that is what motivates us to build the highest quality metal fabrication tools in the United States.
But it's not enough to just have an outstanding product - an exceptional customer service team is also a must. With over 140 years of combined experience and product knowledge, Scotchman's customer service team is top-notch.
Don't just take our word for it. Read what our customers have to say.
Offering the Best Warranty
We value our customers and want to partner with them to provide the BEST fabricating solution to fit their needs. We're here for them-- from their initial inquiry about our metal fabrication tools, to far beyond the purchase.
We've been serving in the metal fabricating industry for 50 years. And one reason we keep earning business back is because we're committed to our customers. It takes more than just a quality product, and our customers know that.
On top of manufacturing excellent products and providing first-class customer service, we are proud to offer the the Best-in-the Business Warranty on our selection of metal fabrication tools.
We strive to do everything we can to make ourselves the best producer of metalworking machines in this great country, and we hope you'll let us continue to earn your business every day. If you need any help, hop over to our Scotchman customer service page for hours and phone numbers or click the link below to send us a message.
Thank you!