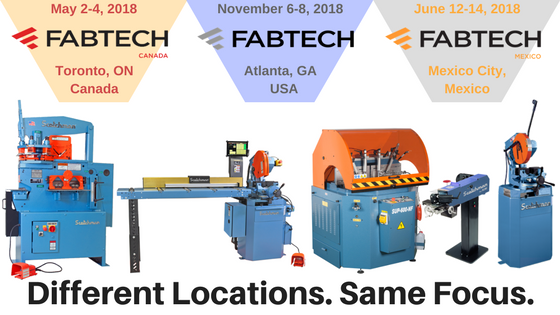 Scotchman Industries is going international to attend two of North America's largest metal fabrication events: FABTECH Mexico (May 2-4, 2018), and FABTECH Canada (June 12-14, 2018).
We'll be taking our ironworkers, circular cold saws, and other metal fabrication products to THREE different locations in North America so metal fabricators across the continent can see first-hand how our machines have the ability to add value to their businesses.
At Scotchman, we're always looking for opportunities to make connections with fabricators and businesses–– learning about their metal fabrication needs and discussing how our products and dedicated sales and service teams can help.
Although it's still a few months away, registrations are officially open for FABTECH Mexico and FABTECH Canada. Keep reading for a preview of both events, and learn why you should make plans to visit the Scotchman booth!
FABTECH Mexico: A Fiesta Celebrating Metal Fabrication and Innovation
What:
FABTECH Mexico is the leading metal forming, fabricating, bending, welding, and finishing event in Mexico. FABTECH Mexico joins the established events AWE Weldmex, METALFORM Mexico, and COATech, all occurring together, at the same time, and place.
The combination of these events will bring together nearly 575 exhibitors, with over 13,000 attendees from Mexico and South America.
When and Where:
FABTECH Mexico will take place at the Centro Citibanamex in Mexico City, May 2-4, 2018.
Scotchman Booth Info:
Scotchman machines will be located in ACAT Mexicana's booth #3742.
Who should attend FABTECH Mexico?:
Anyone involved in evaluating and purchasing new metal fabricating equipment, products, or services should make plans to attend FABTECH Mexico, this May.

This event gives attendees the ability to see first hand a plethora of metal fabrication equipment in action. Learn, network, and experience the latest innovations happening now in the metal fabricating industry.
FABTECH Canada: Find Fabrication Solutions While Making Connections
What:
FABTECH Canada welcomes exhibitors from a variety of industries including: Forming and Fabrication, Tube and Pipe, Metalforming, Welding, Thermal Spray, and Finishing.
As Canada's leading exclusive metal forming, fabrication, welding, and finishing event, it is expected to attract nearly 8,000 visitors, all eager to make connections while learning how to strengthen their business.
When and Where:
FABTECH Canada will take place at the Toronto Congress Centre in Toronto, Ontario, June 12-14, 2018.
Scotchman Booth Info:
Scotchman Industries will be located in Brennan Machinery's booth #1133.
Who Should Attend FABTECH Canada?:
FABTECH Canada only takes place every two years, making your attendance especially important. If you're interested in learning what's new and upcoming in the metal fabrication industry, this event is for you.
When you attend FABTECH Canada, you'll meet face-to-face with more companies, people, technologies, industries, and equipment than you could review on your own in months! Strengthen your metal fabrication connections and learn what products could help your business increase profits.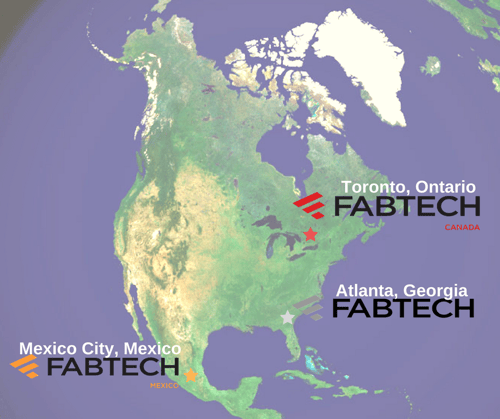 Find Metal Fabrication Solutions with Scotchman Industries
Scotchman Industries attends trade shows all over North America, but don't wait to attend a show to make contact with us!
Can't make it to the FABTECH Mexico or FABTECH Canada show? Mark your calendars for FABTECH USA, Novermber 6-8, 2018, in Atlanta, GA. This is our main event of the year, showcasing numerous Scotchman ironworkers, coldsaws, aluminum upcut saws, automation systems, tube & pipe grinder/notchers, and other metal fabricating produts!
If you're interested in learning more about our ironworkers, cold saws, or other metal fabrication products, send us a message. And if you live in the continental United States, find out how you can see Scotchman machines in action at your business when you request an on-site demo.
Whether you attend a trade show, send us an email, or visit us in person in Philip, South Dakota, we're ready to help your business find the metal fabrication solutions it needs to increase efficiency, accuracy, and ultimately profits. Reach out today!