School budgets are limited, requiring you to allocate each penny carefully. So when you purchase metal fabrication tools for shop class, you need high-quality, long-lasting machinery. Scotchman is simply the best option.
A Longterm Investment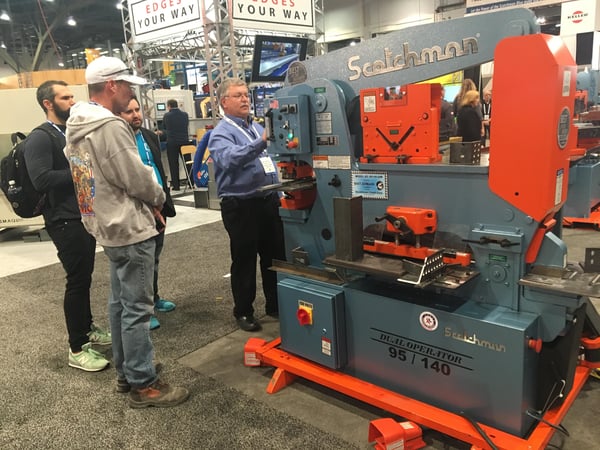 With over half a century of experience, we are the oldest and largest manufacturer of hydraulic ironworkers in the USA. Besides the fact that we produce the best metal fabrication tools in the industry, our customers return year after year because of our high-quality products, superior customer service, dependable warranty, and low leasing rates.
American-made Quality
You want your students to believe in American-made products. Using high-quality, American-made metal fabrication tools in your shop class will prove to your students that American ingenuity is alive and well.
Three-year Warranty
We feature best-in-the-business 3-year warranty on ironworkers, cold saws (except fully automatic saws, which have a 2-year warranty), band saws and tube and pipe notchers (parts only). We believe in our products and guarantee that each piece of equipment that leaves this factory is the quality you'd expect from a Scotchman. Feel confident owning a Scotchman and be a proud supporter of American manufacturing.
We offer one-of-a-kind leasing discounts, making Scotchman an incredibly affordable option for educators. Your school can lease ironworkers or circular cold saws with low interest rates and plans ranging from one to five years, with the option of a $1 buyout at the end of your term and no early payoff penalty. Your school will receive a special "yearly" option, allowing you to pay yearly for your shop's metal fabrication tools rather than monthly.
Free Demonstrations
We believe in our products immensely. Since Scotchman was started in the 1960's, we have been traveling to businesses and residences to offer free on-site demonstrations of ironworkers, cold saws and more. We do this for free. We will visit your school and show you exactly what our machines can do.
Want to see a Scotchman in action? Schedule a visit for your school by clicking below!