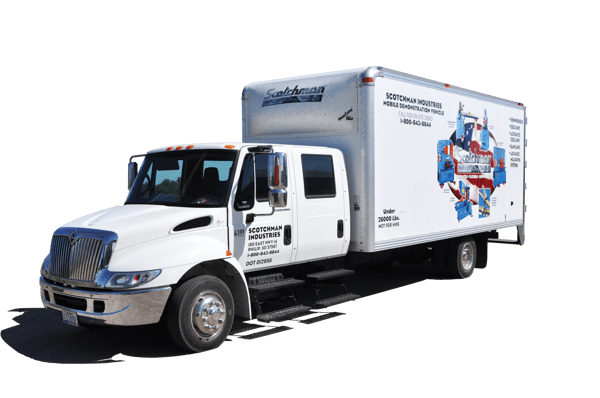 So you've browsed online, viewed product photos, read machine descriptions and maybe even watched YouTube videos of our metal fabrication tools in action. You've done all the research, but how do you know if they'll actually meet your needs without seeing them in person?
Luckily, Scotchman makes that easy for you. In fact, you don't even have to leave your shop. We'll come to you.
16 Scotchman Trucks in 48 States
If you request a free on-site demo, we'll send a factory-trained rep to your shop door. The rep will show you what our machines can do, make sample cuts (or hole punching, shearing, etc), answer questions, and help you improve the processes you employ using our metal fabrication tools.
Scotchman Industries has 16 mobile demonstration vehicles located throughout the lower 48 states. Each demonstration vehicle has a range of hydraulic ironworkers, circular cold saws, tube & pipe notcher/grinders and measuring systems installed and ready for demonstrations at your place of business.
Live Generators in Each Truck
Each truck has a live generator, enabling our reps to fire up our machines at any time and anywhere. Scotchman equipment can improve your production and solve nearly any fabricating issue your shop might be facing, whether you are looking to increase efficiency or fabricate custom parts. Our reps will show you how.
"What I love most about my job or demonstrating my products to end users is being able to problem solve with them. These machines can so much more than most people think. I like being able to show people what the machine can do for them" said Mike Tarrant, an independent rep who covers Texas and Oklahoma for Scotchman. "When a customer needs help in a certain area, like how to make a particular part, I go in with my expertise and solve that problem."
Scotchman Reps Come with Experience
As a family-owned business that has been around for nearly 50 years, we have lots of experience in the metal fabrication industry. Our factory-trained reps are no different. Tarrant has been on the road demonstrating Scotchman products for nearly 30 years.
Tarrant started in 1987 assisting the rep who had his territory at that time. He eventually took it over in 1993. He visits a variety of businesses -- from one-man machine shops to large corporations -- and demonstrates ironworkers, cold saws and more out of the Scotchman truck.
"Normally you're just trying to find out what their end goal is (as far as the use of the machine) and try to fit that to what they're doing," he said. "Ironworkers are versatile and a lot of times a guy doesn't realize that the machine will do more than the one thing he's looking for."
Discovering New Functions
For example, a customer who wants to buy an ironworker for punching holes will learn from Tarrant that the machine can perform other tasks that will benefit his shop, i.e. flatbar shearing or pipe notching.
"The customer may be focused on one product, but we try to show them everything in the demo truck," he said.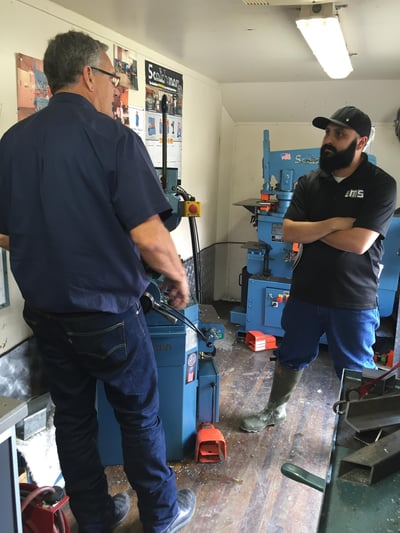 Every day is different for Tarrant, and he appreciates being able to meet and help new customers.
"I'm always trying to improve the customer's process. That's the whole thing," he said. "I enjoy what I do and I enjoy meeting with customers. It's about finding a need and meeting it."
Building Customer Trust
The demo process is very important to us. It helped build our company to what it is today -- a force in the metal fabrication industry with a full line of 13 ironworkers ranging in capacity from 45 to 150 tons of hydraulic force and an array of cold saws, tube/pipe notchers and more.
When he founded Scotchman in 1967 (after starting out with just a scrapyard), the late Art Kroetch took a personal approach.He knew the versatility & value in his product and wanted to show customers first hand what these machines could do for them so he offered each potential customer a personalized visit from a Scotchman representative who would demonstrate features of the product that had captured the customer's interest.
We've continued that tradition today. On-site demonstrations of this nature are rare in the current era of technology, and we are proud to be able to show off the American-made metal working tools we produce in our factory n Philip, S.D. and demonstrate them throughout the lower 48 states (our reps also make visits to Hawaii and Alaska).
Schedule a Demo
We are happy to demonstrate our products at no charge to any business, large or small. To set up a live demo, call toll free 1-800-843-8844 or email info@scotchman.com.