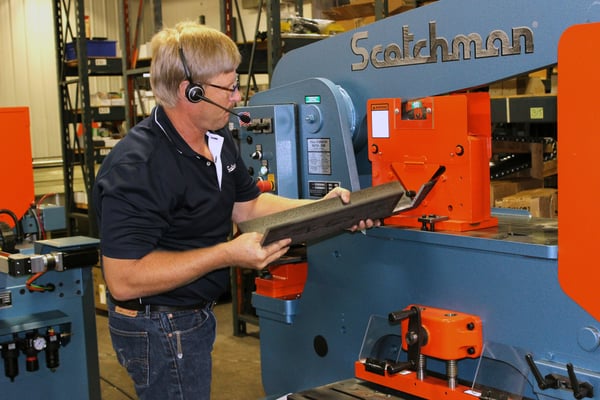 North America's largest metal forming, fabricating, welding and finishing event is almost here. From cold saws to ironworkers, Scotchman is bringing its biggest and baddest metal fabrication products to FABTECH 2015, including brand new machines!
FABTECH 2015: Scotchman Unveiling Products in Chicago
We're excited to unveil three new products at FABTECH 2015, which will be held at McCormick Place in Chicago, IL, November 9 to 12. See the industry's latest and greatest products in action, educate yourself, network and dream big. Because we want you to see our products in action, we'll pay for you to attend. Register today and use promo code FBGUEST for free admission.
We hope to see you there -- and you'll be thrilled with our lineup of products we'll be demonstrating in our booth (#S1923). Our team will educate and entertain you with the massive shearing, punching and cutting capabilities of our ironworkers and cold saws.
New Products and Features
Our new AngleMaster measuring system, coupled with our precision mitering SUP 600NF upcut saw, creates a semi-automatic programmable sawing system like no other! This sawing system will automatically rotate to any cut angle, push the material into the saw and automatically rotate to the next desired cut angle, giving you a completely finished part. Plus, you can store cut lists on its 17" touch screen control. This is a must see for the aluminum extrusion market and we are excited to show it off at FABTECH!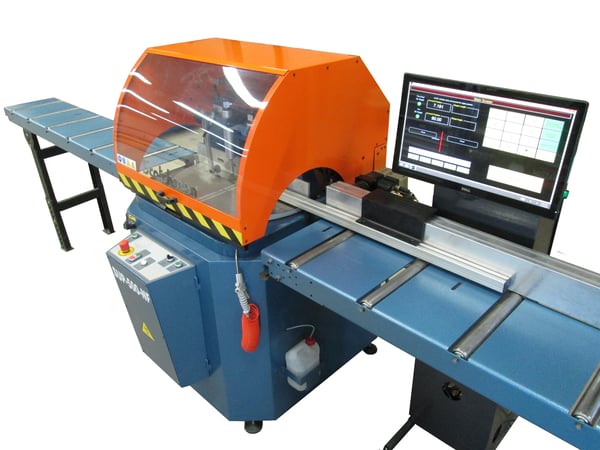 GAA-500 90 DT20 CNC -- The large capacity GAA-500 90 upcut circular cold saw is now CNC capable and available with a DT-20 Drill/Tap Option, which gives you a true production saw! You can drill and tap holes up to 20mm, with a single spindle drill or by adding a multi-spindle drill, add multiple holes at one time. Add a CNC option, along with the DT option, and you can position a hole or set of holes on a single axis on your piece, then cut to length. Watch us make thousands of clips fast with the GAA-500 90 DT20 CNC at FABTECH 2015!
SU-280-G -- Our newest band saw can handle almost any job you throw at it - and we'll throw plenty at it during FABTECH 2015. Standard features on the 280-G include:
Gravity feed head w/metered feed rate
Quick action locking vise
Recirculating coolant system
Miter capability 30 degrees right
Blade trigger switch
Blade tension gauge
Other Scotchman Products Featured at FABTECH 2015
Cold Saws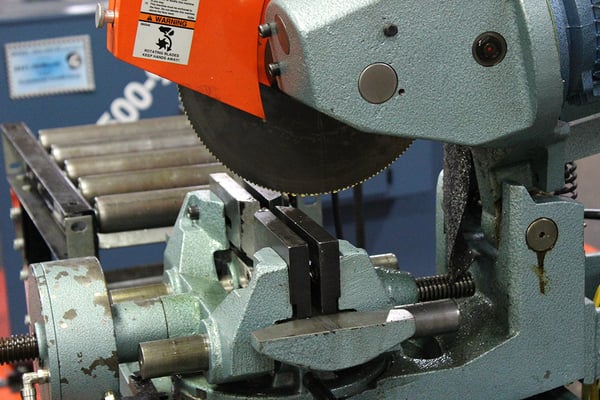 Scotchman is the largest U.S. manufacturer of circular cold saws. Our cold saws are available in manual to fully automatic and are capable of straight or angled cuts, adding precision and accuracy to your shop processes. If you are looking for a cold saw for sale, FABTECH 2015 is the place to be. You'll see these cold saws in action at Scotchman's booth:
Ironworkers
Fabricating metal is a breeze with Scotchman's multi-use ironworkers, which we'll be using to punch, shear and bend metal during FABTECH 2015. As you'll see when you attend the 2015 show, our ironworkers can manipulate metal with ease and switch functions quickly - going from shearing to bending in just 30 seconds! The tool table area on our machines is customizable, allowing it to adjust to any job. Watch us demonstrate our ironworkers' power and versatility in Chicago this November at booth #S1923.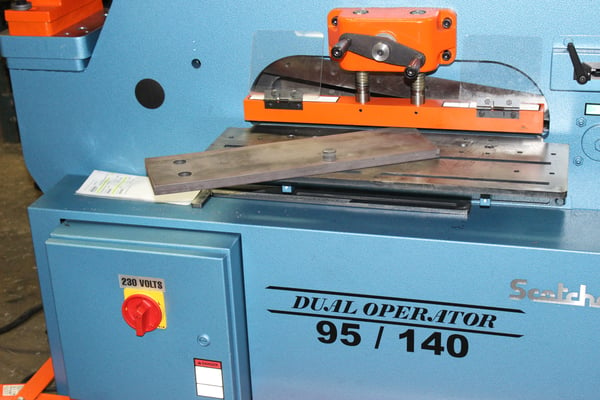 We'll bring these ironworkers:
Tube Notcher
You can create perfect notches in just seconds using Scotchman's line of tube and pipe notcher equipment, ideal for steel and stainless steel tube and pipe construction, coping pipe, hand railings, gates and fences, race car frames and roll cages and much more. We'll demonstrate our trusty AL150 Tube and Pipe Notcher at this year's show.
Join Us Free!
Register today and use promo code FBGUEST for free admission. More than 1,500 exhibitors will be showcasing their products and industry knowledge. There's no better place to learn about the latest innovations in manufacturing or discover new solutions for your fabricating needs than by visiting the vendor booths in the expo hall. Stop and see what's new at Scotchman's booth, #S1923. And don't forget to ask about our show special!