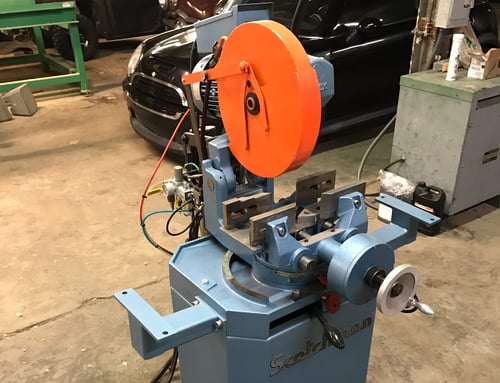 In 50 years working in the metal fabrication industry, one of our favorite things at Scotchman is hearing from satisfied customers.
Recently, architect and metal fabricating hobbyist Shawn Hobbs contacted us about restoring his well-worn, well-loved Scotchman cold saw. Graciously, Mr. Hobbs agreed to let us share his testimonial.
25-Year-Old Cold Saw Sees New Life
First, I would like to thank your staff for all their help in getting me outfitted with new parts for my 25yr old Scotchman 250 – even including paint!


Everyone was very professional and knowledgeable and always eager to help. You guys do customer service right!

I recently completed a complete tear down and restoration of this tool – even replaced all the fasteners with stainless steel. NO MORE RUST.

Attached for your viewing pleasure is a "Before" and a few "After" photos. I took some liberties with the color palette on some of the components on the rear and powdercoated them silver vein. Yes, I wish I could replace the ID plate on the side but I'm ok with it as-is.

Anyway, thanks to your team for all their help and support with this little project.

One interesting point about this saw – the base and the swiveling head were "locked" together by years of neglect when I purchased it. Last night I made my first cut on a piece of 5" wide flat bar – pulled the cut end back and put my engineer's square against it – PERFECTLY SQUARE. Not bad for a 25 year old machine!

After going through this process and having those kinds of results in terms of accuracy, I'm sold on the quality of your machines!
We're grateful to hear about Shawn's success, so we wanted to help him complete his project - by sending him that final piece, the cold saw's ID plate. Enjoy, Shawn!
Need Help with Your Old Scotchman?
If you've got a well-worked machine that needs some restoration like Shawn's cold saw, reach out to our superb customer service reps to learn how to get started.