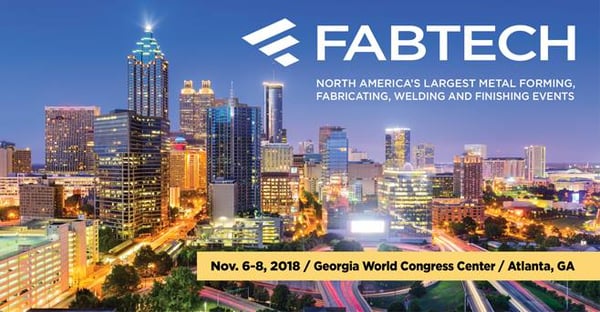 FABTECH returns to Atlanta this November 6-8, 2018 and marks the 4th time the show has been held at the Georgia World Congress Center. ATL is the perfect host city for this year's FABTECH show. Manufacturing is thriving in the Southeast and according to a Trade & Industry Development article it's predicted that the Southeast will be a major hub for metalworking over the next 10 to 15 years.
FABTECH isn't just for the host city though. More than 35,000 people will be in attendance and over 1,500 companies will be exhibiting, giving you and other industry professionals the opportunity to collaborate, discover leading & innovative technologies, network, and participate in educational sessions to accelerate and grow your business.
If you're attending FABTECH 2018, you'll want a strategy to help maximize your time. Here are some pre-show planning tips and FAQ to make your trip a success.
But it can't be all about work right? Atlanta is ranked one of the highest destinations for tourism. Here's a list of 50 fun things to do in Atlanta.
We understand you're probably not on vacation, but you can experience two of Atlanta's top destinations just by attending a special show event! Attend the exclusive Industry Night Party at the Mercedes-Benz Stadium or journey through 3.1 miles of Centennial Olympic Park Center while you're running or walking FABTECH's RUN4MGF 5K.
See you in the Atlanta!
If you haven't done so already, register for FABTECH happening this November. Use promo code 10005718 when you sign up to get your FREE expo pass.
Need additional help getting your trip approved? Check out resources here to help you justify your attendance.
What will Scotchman Industries have in booth #B8829? We don't want to give everything away, but here's a sneak peak at which machines we'll be demonstrating in ATL this year.
Want more information from us? Subscribe to our blog and check out past FABTECH posts here.