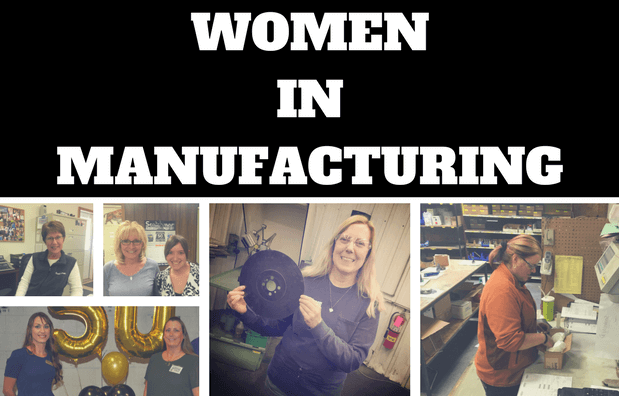 Today's U.S. manufacturers are facing an impending skills gap as a generation of manufacturing workers prepare themselves for retirement. In the future, it is likely that U.S. manufacturers will try to bring back millions of factory jobs, to the United States, at the same time the industry is experiencing an increase of retirements from the aging workforce. If this prediction is correct, the manufacturing skills gap will continue to grow and create an even greater challenge for American manufacturers. The shortage of skilled workers is a serious challenge which needs to be addressed with high priority.
Combating the Manufacturing Skills Gap by Inspiring Women
Over the last two years schools across the country have been providing students with more curriculum geared towards Science, Technology, Engineering, and Math, also known as STEM. STEM based classes are meant to teach young people to think deeply, to think well, and to think BIG! Our industry is hopeful that an increase in STEM education and trade focused learning will help inspire and encourage our nation's youth to pursue careers in manufacturing, but today, on International Women's Day, we want to focus on the important role that women play in this field.
The biggest obstacle to getting more women to enter the manufacturing industry boils down to one word: perception.
Today's factory floor is very different than it was once portrayed. Manufacturing jobs often pay well and require less formal training than most traditional career paths that have comparable salaries. With the advancement of technology, workers in the industry today rely on brains over brawn due to highly technical machines. Lean manufacturing principles enforce a clean and organized work environment to keep the floor moving as efficiently as possible. Modern manufacturing is here, and is advancing at a fast pace.
And yet, women outside of the manufacturing industry today still perceive it as a man's field of work.
Can we blame them? The industry has yet to shake its male-dominated impression and many women don't feel encouraged to join in. If you need some inspiration, listen to Manufacturing Talk Radio's new podcast series, Women in Manufacturing, where they interview knowledgeable women who are working and thriving in the manufacturing field.
South Dakota School of Mines & Technology's (SDSM&T) Women in Science & Engineering (WISE) group recently participated on a panel discussion with female professionals who shared their experiences as leaders in the science and math fields. Lisa Carlson, of SDSM&T WISE group, says," I think it's really important to have these leaders here to show women students that it can be done, they can break through the glass ceiling and to even talk about the hardships and the things they had to go through as a professional woman in a STEM field." Learn more about SDSM&T WISE organization by clicking here!
According to the U.S. Bureau of Labor Statistics, women make up 47% of the labor force, but only 29% of the manufacturing workforce. The lack of participation isn't due to a lack of opportunities. Over the next decade, the U.S. manufacturing industry will face an estimated two million worker shortfall.
We need to inspire female leaders to step up and be the solution to the skills gap problem this field of work will inevitably face.
5 Ways to Inspire Women to Apply for Metal Fabrication Manufacturing Jobs
So, how can a metal fabrication manufacturing company like our's change this perception? Here are five ways to encourage women to join the manufacturing business.
1. Become actively involved at local high schools and colleges to push STEM (science, technology, engineering, and math) classes to young women in pursuit of technical careers.
2. Provide and/or fund mentorship programs to increase visibility of role models for young women to look up to and listen to.
3. Highlight positive aspects of manufacturing that align with employment characteristics women seek (i.e. interesting assignments, attractive pay, work-life balance) when looking for opportunities.
4. Promote managerial and high-earning positions for women to work toward as they develop a career in manufacturing.
5. Pay women equally so they receive the same as their male counterparts. In doing so, women will feel valued and respected.
There aren't enough young women who perceive manufacturing as a great choice for a future career. Let's actively seek to employ women today.
Introducing the Women of Scotchman Industries
Scotchman Industries appreciates the men and women who work for us, but today is International Women's Day, so we're highlighting the amazing women who work at Scotchman.
We are proud to employ a number of great, hard-working ladies... 12 to be exact! Collectively these women comprise of almost 150 years of knowledge and expertise! We are forever grateful for the impact women have made on our business throughout the years.
Here's a list of women who currently work on the manufacturing floor and within other departments of Scotchman Industries.
Karen, CFO, 38 years
Rene, Records, 18 years
Beth, Receptionist, 20 years
Jeanie, Publishing/Print Room, 23 years
Edna, Export Manager & International Sales, 21 years
Maureen, Freight Coordinator & Order Entry, 12 years
Brooke, Marketing/Advertising Mgr., 11 years
Emily, Freight Coordinator & Order Entry, 2 year
Jennifer, Shipping/Parts Department, 2 years
Karen, Blade Sharpening, 2 year
Heather, Accounting, 1 year
Skye,Tradeshow Coordinator & Marketing Asst., 9 months

American manufacturers need to keep encouraging women to rise up in the field at all levels-- from entry level to the c-suite corner office-- is something we can do to help address the impending manufacturing skills gap, improve the public's perception of manufacturing, and continue to modernize the field in ways that go beyond just technology. The future of America and American Manufacturing depends on all of us...our youth, our veterans, and every man and woman.
We know that hiring women is a wise choice and one of the answers to the skills gap shortage in the manufacturing industry today. To stay up to date on this and other aspects of manufacturing, please subscribe to our blog and we'll email you updates on future posts.