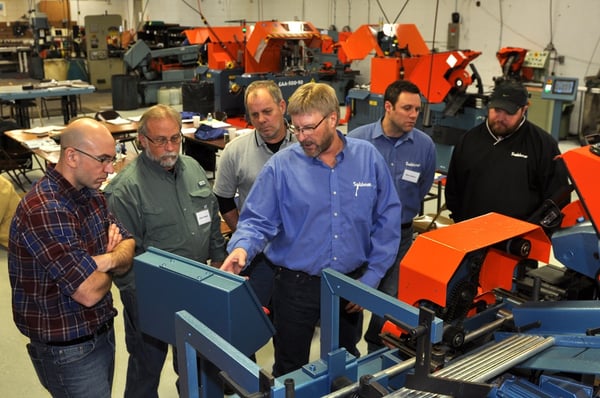 Scotchman's reps provide free on-site demonstrations so you can see firsthand what our metal working tools can do for you. For this reason, we recently brought all Scotchman Reps (US and Canada) to the factory in Philip, SD, for a 2-day comprehensive training session on our new products.

Before a rep can step into a demonstration truck and start giving product demos, they must first be knowledgeable of Scotchman products. Scotchman factory representatives are experts on Scotchman ironworkers, cold saws, utility band saws, tube notchers/grinders and all of the other metal working tools in our lineup.
Reps Around the Country
Because our reps are spread out around the US & Canada, coordinating everyone's schedules and travel arrangements to arrive in small town South Dakota on a particular date can have its challenges, but the benefit of hands on learning is more than worth it. Most of Scotchman's factory reps have been with the company for a long time, so they know the product extremely well.
But it is important to get together occasionally for team learning, team building, and some hands on product training. The more we train our reps, the better they can serve you.
"I believe you have to have confidence in your product," said Mike Albrecht, Scotchman's National Sales Manager. "If you don't have 100 percent confidence in your product, you can't sell it correctly."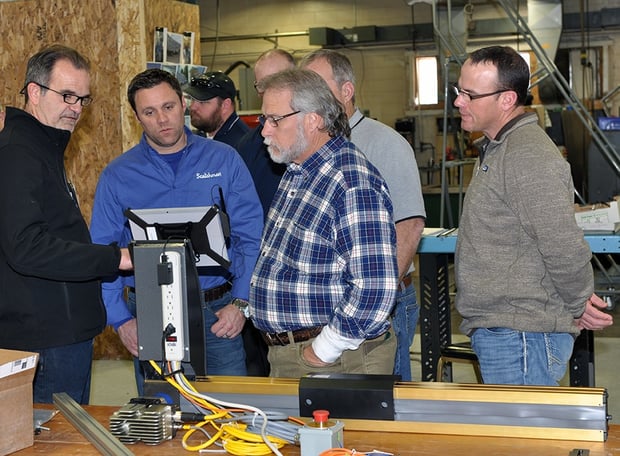 Metal Working Experts
Expertise is not optional for Scotchman reps. When they drive a Scotchman truck to a business to demonstrate our metal working tools, they have to be ready for any question. We have 16 mobile demonstration vehicles with a range of hydraulic ironworkers, circular cold saws, tube & pipe notchers and measuring systems mounted in them.

Reps not only give live demonstrations showing you how to use the machine; they also teach you how each piece of Scotchman equipment can improve your production and meet your metal fabricating needs.

Because reps are also responsible for servicing machines in their territories, they need to know exactly what makes our ironworkers and cold saws tick. Knowledge is key to providing superior customer service.
"Scotchman sells only high quality, dependable products." Albrecht said. "Training is imperative so our reps understand what Scotchman has to offer customers, as well as know how to operate and service the machines."
You Can Trust a Scotchman
Knowledge is what makes our reps valuable, which is why we spend the time and money to train them.

You can have confidence that your Scotchman machine will not only include our Best in the Business Warranty,* but is also backed with superior customer service and product knowledge.

Whether you live in Philip, S.D. or Dallas, Texas, you'll have the extended arm of the factory available to offer support -- on site if need be.

Want to see how our machines work? Visit the link below to request a free live demonstration.
*Scotchman now has the Best-in-the Business, 3-Year Warranty on Ironworkers, Cold Saws (except automatic cold saws, which have a 2-year warranty), Band Saw and Tube & Pipe Notchers/grinders (Parts Only).